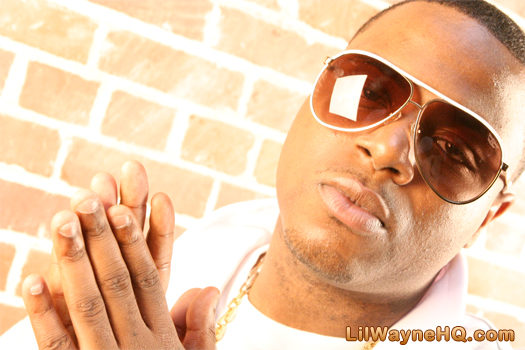 In the interview below, Young Money's Jae Millz speaks to LilWayneHQ.com about some of his upcoming projects including the YME compilation, a typical record session, the Bed Rock music video, New York Hip Hop, School, Nicki Minaj, Lil Wayne, and much more.
We're here with Jae Millz! This is George Kiel on behalf of LilWayneHQ and NiceKicks.com, we thank you for taking the time to do this with us man.
Appreciate it, it's love.
Is there any news you can give us on the upcoming Young Money Compilation? The songs you did or the release date?
I don't know the exact release date, but what I can tell you is that I don't know what the people expect from the Young Money Compilation… I know everybody heard the Every Girl single and you know we appreciate the feedback and we appreciate the support on that single, I wanna speak for all of Young Money right now – you know they not here to speak with me… and we appreciate all of the support on the Bed Rock single… but I don't want people to think that the whole Young Money album is just "Oh I love you, and you are the best looking girl in the world, let's have sex" haha. Like that really ain't the whole album… you know Wayne, you know Jae Millz, you know Gudda Gudda, you know Mack Maine, you know Nicki Minaj, you know Shanell, you know what Lil Chuckee brings, you know what Lil Twist gonna bring, you know T-Streets… like everybody got their own element. You know what Drake gon' bring, you know if Baby get on a record you know what he gon' bring. Just kinda knowing that, people don't know what to expect and I kinda wanna keep it like that because there is so much on the album, it's a Compilation… so if I was to tell you "Oh it's hard, the Young Money Compilation is crazy, we got a bunch of bangers on the album"… I don't know what your definition of a 'banger' is, but one thing I do know is – you not going to be able to say anything what we say on the album ain't top of the line right now. Like anything we put out would kill whether it's a mixtape, whether it's a song that leaked, whether it's a mixtape that I put out, or Gudda put out, or Wayne put out, or Nicki put out, or Drake put out, anything that anybody from Young Money put out that leaked, everybody run to hear it… so what do you think they gonna do when the album come and they don't really know what to expect?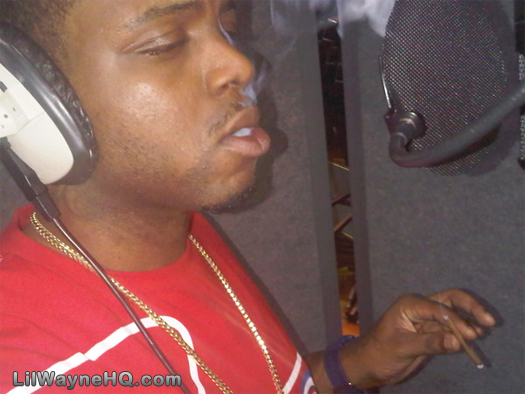 What's a record sessions like for you? Do you write all your raps or do you do a bit of freestyling?
I'm not gonna say I can't make a tune like I freestyle songs because I think anybody who's set up here to just say they gon' freestyle through their songs… to me that's just like you rambling, so I don't want to really say I freestyle, but there are times where I won't write a verse. I hear a beat and I just keep saying shit in my head to myself over and over, and before you know it you got like 6 bars and you like "Well damn the verse is only 12-16, I might as well keep going" and you just slowly but surely store bars in your head until you got about a verse, and then you go and lay out. But it's not like I go in there like "Yo check me out, off the top off the dome" I ain't doing all that haha, it's gonna be 2010. Sometimes I go to my Blackberry – I'm the king off that… it's not like I'm going to look for something I don't know already, but you go to Blackberry, you go to Notes, then you go to New, make you a New Note and just put something together real quick. I went to school for Arts so writing raps, constructing songs and putting lyrics together is like 'Arts & Crafts'… your just piecing your thoughts together. So I kinda like writing better than just putting shit together in your head because I think of so much shit, I might forgot what I was thinking about. Life is short and I like to enjoy my time at all times, we all deal with a lot real shit. When I'm in that studio and even with Wayne or Young Money, we just enjoy our time together man, we joke, we watch SportsCentre, we play old music that we did and didn't put out yet. It's always work, you never wanna feel like you in the studio wasting time.
You said you went to school for Arts, did you ever think that you was going to be a rapper while you was in school for Arts?
When I was in School I started writing raps in the Junior High School… I wasn't really too good at it. I didn't think I was going to be a rapper or nothing like that, but I went to High School for 'Cartoon and Fashion Architecture'. I was just that much into Art that I wanted to do everything, so in the myth of that I used to do a lot of battling and that's really how I got cool with people.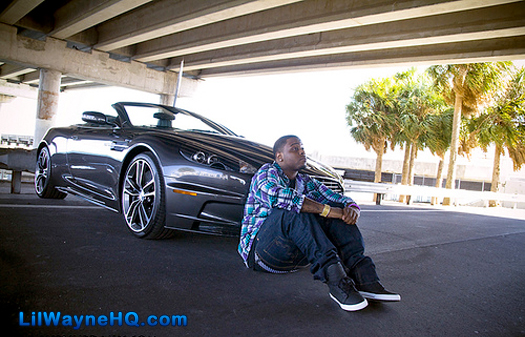 Most of us fans agree that Zone Out Season 2 is crazy and little do they know that Zone Out Season 1 was crazy too. Can you explain your growth from both of those? We know on Zone Out Season 2 you wasn't working with Young Money, and on the second you were. Can you explain the difference with both of them?
Well the difference is the first one I kinda recorded that in the crib in Harlem. That was just kinda like I had no deal and I just gotta put a tape out – I gotta have something on the radio, and got to have something in these streets, and got to have some shit on the internet. That was kinda like when the internet was kickin' in and the Zone Out Season was one of the first mixtapes I ever made a 'free mixtape' where you can download it. I put it on my MySpace page, and so many people started feeling it I'm like "Man fuck it, I'mma press it up". This is really how this mixtape went, I didn't do it with a DJ, I didn't have a deal… I just did it in the crib. I put the format together, took songs I had, I took some photo's like everything was free. I don't even think I've spent my own money on pressing Zone Out Season up. I think my homey in LA gave me $300 to press up a thousand CD's and in between that I think I had "Holla At Playa" which was on Zone Out Season 1 and I was getting a lot of radio air-play with that.. and from that, that's how I called Wayne like "Get on the remix with me if it's cool", and he was like "Send me the record". That's how I hollered at him and that's how I became Young Money.
The separation between Zone Out Season 1 and Zone Out Season 2 is almost 2 years, I ain't put out no mixtapes and that's because when I first got around Young Money it was almost to a point where I didn't know if I was going to be there long enough and fit in. Wayne used to tell me a lot "The way you rap I used to do that along time ago and they not going to know what you're saying when you get up on that stage. I perform a lot and you gon' be with me when you get up on that stage… you don't wanna start balalalalala and the people just looking at you waiting for you to get back to the hook." He was like "A prime example is when we go on the road and you see me perform Best Rapper Alive, they don't know what I'm saying, they don't know 'Coming live from the…', they don't know none of that. After 'Best rapper alive, best rapper…' they don't know nothing else", and I'm kinda listening to what he's saying and really do understand what he means. To me it's kinda like him changing my rap, but he was trying to get me to adapt to what the people are going to spend money on: "They don't want the Smack DVD, they don't want the Ness battle, but when you get up on that stage they want to be able to sing your shit with you, they wanna be able to feel your shit and be able to recite it with you." That was the separation between the whole Zone Out Season 1 and the whole Zone Out Season 2.
When it came to the time when I was like "I got a bunch of songs and I'm recording a bunch of shit" – and it's not like I'm leaking anything from the Young Money album, it ain't like I'm leaking records that I got with Wayne that I don't know what do with yet… I still got a gang of shit, the artists what you like… I'm about to put out Zone Out Season 3 in another month and I just put out Zone Out Season 2 and the Virgo mixtape. The only reason I'm doing this is because it's a flood, we in demand right now, so why not? When you not in demand, nobody wants to hear the shit you putting out. Right now Young Money is in demand.
Can you tell us how the track "Bring It Back Remix" with Lil Wayne and Fabolous came about?
I had the "Bring It Back" original song with Jadakiss and it was on Funkmaster Flex Car Show album. It was really a song that was for my album and I was about to put it out, but we didn't have a date, and everything was going back and fourth. I didn't really want to let the record go to waste because I was getting radio play with it, and Flex was about to put his album out. So we approached him with the record and he was like "Cool" and took it. He blew the record up but of course there was never no video for it, but the record was big in the clubs and on the radio. So me being the person I am, I'm trying to figure a way to keep the record hot and stretch it, keep it going… so we got Fab to lay a verse on it, then I laid a verse on it and then I hollered at Wayne. This was the first time I met Wayne and he was more like "Just give me the beat"… there wasn't no money or nothing, he was in New York and he did this shit right there on the spot. That's what really made me not have so much pride when it came to asking him to get on the "Holla At A Player Remix" and it was the same thing – He didn't want no money or nothing.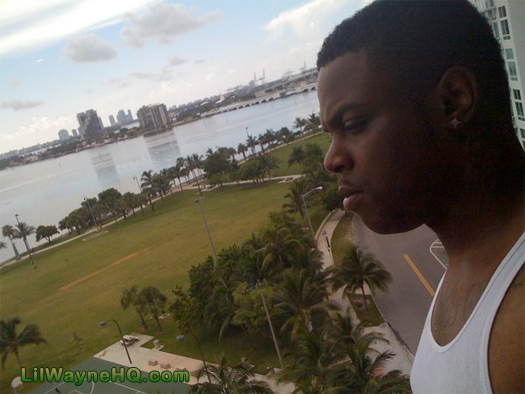 Can you give us any details on the "Bed Rock" music video?
We had a full treatment about how we gonna do the video, but you know – we always make last minute changes… we all got our own creative vibe. Whatever we do, whenever we come together we always gonna make it fun, we don't never wanna have no boring video, we all artists in our own world, we got our own fans. There are a lot of people that love us as solo artists, individuals, as people, as a group, as a label, as a crew, they love us so we always just wanna make shit look fun. We learned our lesson with the the BET Awards… we not gonna go overboard. We gon' watch it this time, but we still gonna make it exciting… just look for the video coming real soon.
What's your thoughts on New York Hip Hop right now? I hear a lot of people saying that New York Hip Hop is not going too good and it's all in the South right now, but your one of the bright spots in New York Hip Hop right now a long with Jay-Z, Fabolous and Jadakiss etc.
Man it's still the same thing, still got the same ego, you still got the same people, the same niggas that hot, the same niggas that wack haha. It's simple as that man… your hot or your not. I remember one time I was in that mood just chilling like "Old niggas ain't showing love cause you in New York"… don't say that, your shit just might not be hot or they might not even be a "Niggas ain't showing New York love". A lot of the time – I'm fucking with New York so I can say it, people can take it however they want – A lot of the time, it ain't because the South is hot, the West is hot etc… it's because a lot of people in New York don't support niggas from New York. I'm not saying that like DJ's, or rappers, it's everybody. Like I'm down with Young Money and everyday I have heard people cutting my part off on "Every Girl" in New York… I'm on the number 2 song on the Billboard chart and they cutting my verse off in my hometown. I love New York though, it is what it is… that shit just making me go harder.
I left Nicki Minaj's name out of there when I said all of those names for New York, and she doing her thing too.
Nicki the hottest chick in the game and bad… you know you can be the hottest chick, but not have the best mug. You might be the nicest chick with rap, but you might not have the hottest body… we might wanna hear you rap, but we might not want to see you all the time. Nicki is one of them girls that if you don't wanna hear her or you think her music is wack – you wanna see her!… you wanna take a glimpse at her at least once.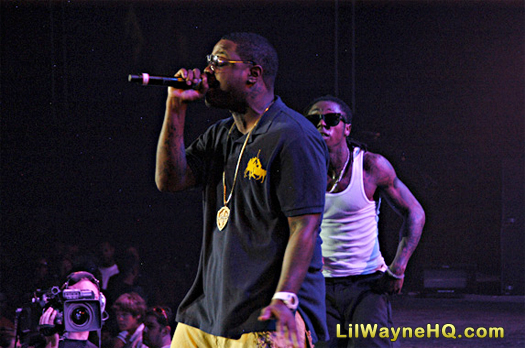 Before we wrap this up, tell us about your upcoming projects coming up and if you have a album in the works, when do you expect that to come out?
Right now I'm just recording that Young Money album! I put the solo thing on hold, but I am still recording, fucking with some A-lists producers, working with different artists in the game which is a pleasure. When it's time for me to sit down and figure out what I'm gonna do about the whole 'solo' situation, I'mma map that shit out and take care of it in a matter of weeks. Recording music has never been a problem for me.
Thanks for your time Jae Millz, we appreciate you giving us the chance to interview you. Everybody at LilWayneHQ.com and NiceKicks.com would like to wish you the best of luck in the future man!
Thanks, I appreciate it man… shout out to y'all, keep holding Young Money down! CMB and YM all day every day!
We would just like to give a few shout outs: George Kiel from NiceKicks.com for doing the interview, Aubrey Aquino for setting up the interview, Fredd Martins for editing the audio, and of course Jae Millz! If you missed Jae Millz's "Zone Out Season 2" mixtape, you can download a free copy here.
Previous: LilWayneHQ.com's Exclusive Interview With Young Money's Gudda Gudda