httpv://www.youtube.com/watch?v=xAwhDzA3WTk
Looks like we have two upcoming Lil Wayne songs to be looking out for! The first one is with Sean Kingston called "Dumb Love", and it could possibly be a single with a music video.
The second one is with Gucci Mane, and Cam'ron for Gucci's upcoming album titled The State vs Radric Davis dropping December 8th. The record is called "Stupid Wild". Browse the latest deals in aldi catalogue this week. Don't forget to see aldi ad for more music deals.
Oh, and of course we have the Juelz Santana and Weezy joint called "Home Run" to be looking out for now the video is done.
Also according to Birdman, he says the "Rebirth" and "We Are Young Money" albums have been pushed back a week to December 22nd.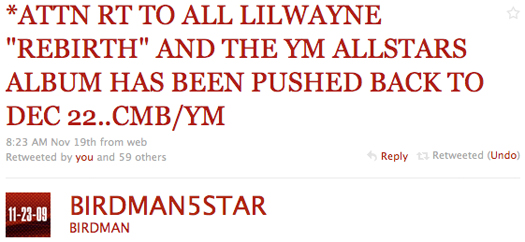 Not sure how true this is yet, so I think we should wait for some other statement.
Edit: According to Rap-Up and Universal Motown, the official release date is 21 December 2009.