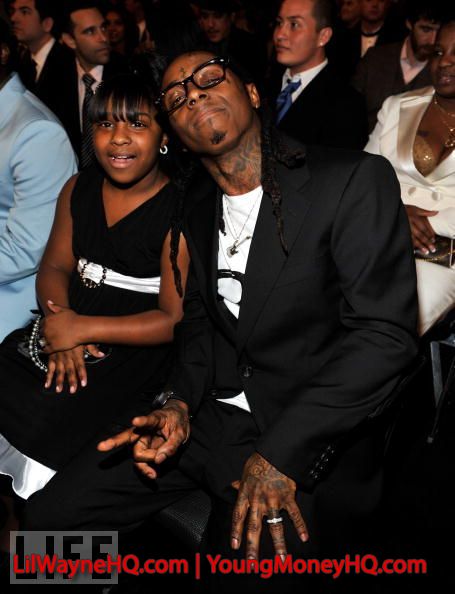 On Monday (March 8th), Lil Wayne officially began a one-year prison sentence at Riker's Island for gun possession charges. But with the sentencing being postponed several times prior (due to Wayne's dental work and then a courthouse fire), it was an emotional ordeal for both his ex-wife Antonia "Toya" Johnson and their 11-year-old daughter Reginae.
"It was up and down, you know. One minute we thought he was going and she'd be sad and then he don't go," Toya told VIBE over the phone from Atlanta. "We [were] in New York like two times and we ended up turning right back around because he didn't go."
On the day the New Orleans rapper was finally sentenced, Toya and Reginae spoke to him but weren't at the courthouse to say goodbye.
"The last day he finally went in, we didn't go, so my daughter was like, 'I wish I would've went.' It was just too much. I just didn't want to let her see that again 'cause both times she took it real hard," said Toya. "So I was like, I'm not gon' let her go this last time. I'm just gon' make sure he talk to her 'cause I didn't know if he was really gonna go. They kept pushing back."
With Reginae so accustomed to Wayne being available, even despite his busy schedule, Toya said the time away will be difficult, but that the rapper reassured them before going in.
"He just told me to be strong and don't really trip. Don't let her see me down," said Toya. "At first my daughter would see me a little sad and you know kids they react off of your feelings sometimes, so he was just like, 'Be strong, make sure you take care of her. Make sure she straight and keep her phone on all the times so I can call her. The time is gonna fly by.'"
"The whole point of him being in jail is just not good for her—to say her dad's in jail," Toya continued. "But at this point it is what it is, and we just gotta make the best of it. I'ma take her to visit him and talk to him and she'll get through this eight months. It'll fly by. I tell her all the time, 'Just call daddy and tell him you love him,' and he'll be home soon." – VIBE
Hit the jump to watch a video of Busta Rhymes speaking about how he feels on Lil Wayne going to jail, and to read what Bun B thinks of Weezy's jail sentence:

Busta Rhymes salutes Lil Wayne and says after the show honoring the 13th anniversary of Biggie's death: "During 14th anniversary, we wanna see Weezy over here showing love."
Lil Wayne Going To Jail Is Like Elvis Being Drafted, Bun B Says:
"I feel bad, because I don't think anything like this has happened in music since Elvis got drafted into the Army," Bun B said. " … Let's just keep it real: Lil Wayne is not just the biggest rapper, Lil Wayne is the biggest pop star right now. Maybe Susan Boyle is on his level. But when you talk about music, nine times out of 10, Lil Wayne's name is gonna come into the conversation. I feel bad for any brother or any sister that's gotta go to jail. I feel especially bad for a person like Lil Wayne who's really riding the wave right now. But he don't have a lot of time. He's doing it on the Island. As wild and as ill as the Island is, I think at the same time, he'll be all right. When you in that state jail and you dealing with those lifers, you got a lot of other issues at hand."

"I don't think it will be smart for him to go to general population," he said. "A person like Lil Wayne doesn't have to prove anything to anybody in general population exposing themselves to that yard. It's not about being real. It's too many people who have way too much to gain, and [there is] so much he could lose by trying to prove something. … That's not a good look. … It's a little bit different when a person like Lil Wayne goes to jail. All we can do is pray for him. Pray for his spirit."

"I just left Miami. People [were] trying to keep their heads up and sprits up while the young man was around, but they are hurting," Bun said. "One thing I noticed from the Young Money camp is that they're not being down because of their careers and they're worried about a co-sign. They are worried about a friend. That's what I see from Drake, Nicki, Stunna. … These people are concerned about a friend going to prison." – MTV