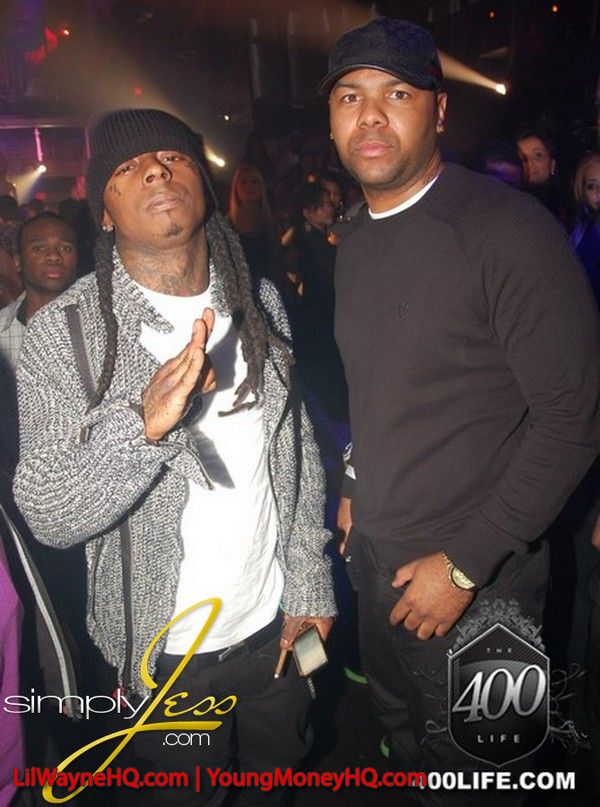 Lil Wayne posted his third letter from Rikers Island on WeezyThanxYou.com earlier today were he says he is doing well and hopes everyone is enjoying their summer! Weezy also gave a shout out to his Young Money family for winning four awards last night at the 2010 BET Awards.
I hope everyone's summer has been going well doing whatever it is you like to do. On my end, I'm alive, breathing and blessed. You already know how I'm passing the time – reading and working out. I know I say it every letter, but thank you from the bottom of my heart for the pictures, rocking free weezy tees, and continuous letters. They mean the world. I promise to continue to update as much as I can and answer as many questions as I can from you guys. Shout out to my YM family for making me proud last night. Love and appreciate life. God bless.
Tunechi also thanked a lot of fans for their letters they sent to him while he is in prison. If you sent a letter to Wayne you may be on the list. You can view the entire list after the jump.
Marcus Bowden – I simply appreciate you. You are the definition of strength.

Ms. Lisa Marie Newton – I'm glad I stole you away! Your pix were beautiful and hilarious. Great job on the costume.

Kritstin Stoneberg – Your cards are always perfect.

Thais Santos – Thanx for the longtime support and you are very pretty if I may correct you.

Amy Jean Godley – I appreciate it baby. I won't stop.

Ms. Nesha Teree Liburd – Thanx for the love and I will keep my swag.

Brittany L. King – I loved the outfit with the tie. And don't worry I won't forget you. Thank you.

Anna Headen – I thank you for your love!

Lucife – STAY IN SCHOOL! And keep writing.

Karla Moy aka hustleGRL – I heard you've been holding down Drizzy for me. Your time and effort is much appreciated and doesn't go unrecognized. I love you babe.

Anjaé – You are a jewel. Your words were so well put. And I advise you not to give up nothing but your time and thought to the pursuit of success. Nothing else! You actually made me wanna hear your lyrics by the way you write. Keep it up. Don't sacrifice anything but time… and you're a cutie!

Dani Gruber – I absolutely love your personality but confidence is key. I loved your letter. And say hi to Ryker for me.

April Mendoza – Just 5 minutes huh? You're cute and funny. Thanx for putting your friends on to me.

Eshall Baukman – Keep beautifying the world. Your smile is gorgeous.

Danielle Jones-Morales – Thanx for your "honest opinion".

Sarina Panjwani – So happy you found your iPod. And you're a terrific artist. Loved the drawing.

Johnquisha Jones – Thanx for the words mama and I applaud your work on the school project. And you're right; I'm not dissing Plies! And R.I.P. Cody.

Jonathan Everett David Powell (JED) – I swear to you that I almost dropped a tear reading your letter. You are my power. I thank you form the bottom of my heart. I prayed for your grandpa and I love your decision to become a radiologist. JED you are amazing. Thank you!

Alina Quinlan – I am honored to know that my words can inspire you the way they have. I wish you nothing but the best. I thank you with love. You made me feel great.

Michelle Grommer – I thank you kindly.

Saskia Nele Hartwig – Your letter was intriguing. I hope I meet you someday.

Ariel Beechum – I know you'll be a wonderful teacher someday. Thank you.

Annette Glennon – You are very welcome and I thank you as well.

Olivia Movafaghi – You are metaphysically beautiful. Thanx babe and I loved the rap. Keep up those 4.0's and you'll end up wherever you please.

Nana A. from Springfield, MS – You are one beautiful black woman! Thank you for your words.

Alice Martin – Thank you sweetheart.

Walia Broadie – You are a very beautiful woman, as to was your letter. Misunderstood is good.

Nina Jacobs – Thanx for the support babe and tell your brother I said "Love.

Erica Shaw – I love you too.

Jessica Ramos – Your smile is one of a kind. Glad 2 have a friend in you.

Nora F. in England – I love your shirt in the pic. Thank you babe.

Katia Bellantone – I understood you quite well and your compliments were overwhelming.

Megan from Utah – Nice costume. Sorry about the Jazz but I'm a Lakers fanatic. And you're beautiful by the way.

Haya Aziz – Do you know how beautiful you are? I'm honored to inspire you. And thank you. And I loved the picture and rose.

Mark Wayne Adams – Congrads on graduating and thanx for the love and support. Tell biz and the rest of the homies I say wudup.

Jamie Diaz – Thanx for the love and I hope the songwriting goes well.

Eline Van Noorden – Thanx for the love and prayers and the wedding pic was perfect.

Joy K. Richardson – What you do and have done is wonderful. I personally thank you.

Yasemin Turanli – Thanx for the love from Munich.

Samari Walker – Thanx for the words of encouragement.

Catalina Lindegaard – Thanx for all the love from Luxembourg. You made me happy.

Tiara Bethel – Thanx for the support. And kiss your daughter for me.

Shayne from the Dutch – Thanx for the love.

Tiffany McEachern – Thank you for the words. The Andy Warhol statement had me floating. And I love cake. Thanx for attending the show.

Sophie Creamer – I'm glad I can inspire you. Thank you for loving me.

William Mitchell – Seriously, thank you. The Pac and M.J. comparisons are unreal.

Margarita Gurule – Your letter touched my heart. Libras rule!

Juliss M. Osio – Your letter was "fukkin awesome". Thanx for loving us babe.

Deanthony Kaych – You are wise beyond your years. Keep writing the lyrics.

Chanel Easter – I appreciate your words.

Karla Bianco – Thank you from the heart. Your judgment was perfect, as were your letter.

Donna Letremy – Continue to be the great "mum" that you are and tell Marcus I said wuzup.

Tami Carter – I appreciate your prayers and best wishes to you and your soon-to-be.

Lakeliah Jenkins – Thanx for the encouragement. Life surroundings was beautiful.

Aubrey Morris – You're a cutie.

Noah Cardamone – That was real!

Brooke Nunley – Congrads!

Chasity Carmichael – You are funny and I love confidence.

Nick Wynne – I'm glad 2 be a positive influence thank you for letting me be that.

Rachel Koyl – I appreciate you and you're already a great photographer.

Destiny Galentine – You are amazing Science is sexy. And I said a prayer for your situation.

BJ Richmond – Best tip I can give you is stay in school and keep that confidence.

Desarae Beery – Strength and motivation!

Tequila Bailey – Thanx for the kind words. I hope you learn to love Rebirth.

Nadia Nasrudinzada – Thanx for supporting me for so long.

Joni Baby Holley – Hope you won in Vegas. Thanx for the love.

Eric and Julia Early – I thank you. Nice tats.

Tarena Bisolca – I'm glad 2 be of help to you. Your daughter is an angel. Your letter helped me. So thank you.

Mikayla Greer – Thanx for holding me down in Kansas. And my music is "for you."

Jasmine M. Mendoza – You are a blessing. I love your drawings. I love your words and I appreciate your love for me. I didn't read the whole "book" but I read more than you'd probably imagine. Thank you dearly. Love the piercings. Tell Ronisha I said hi.

Kiayci Thacker – Thanx for the endless support.

Jessica Matthews – I thank you for the letter an applaud you for the woman you are. Your kids are beautiful.

Ashley and Lil Mackenzie – First I thank you for your thoughts and prayers. I would also like you to know that your letter touched my heart. I wasn't able to keep the wristbands but thank you anyway. Gudda and I send our deepest love to you and Lil Mack.

Ms. Veronica Barnett (Mom-Dukes) – I thank you for your prayers. And thanx for those very helpful words. I appreciate you.

Kyla McClain – Thanx for the love babe.

Chasity Horne – I appreciate your prayers hun. Thank you.

Paris Sweitzer – Thank you for the support. Shout out 2 Denver!

Caitlin Thomas – Thanx for the prayers and I'm glad 2 know that my words can be of help 2 you. Tell Moms I said hi.

Peter Baya Foster – Thanx for the love from Paris.

Spencer Turner – If she knows how you really feel about her, she'll be there.

Bella from England – Thank you darling.

Anna Alvarez – Thanx for the love.

Vanessa Satten from XXL – Thank you for the love and I can't wait to be on the cover again. And you are a hot girl babe.

Portia Robinson – I prayed for you and I hope you're good. Thanx for the love. And I know your girls are beautiful.

Jessica Unebrink – I sent u a post card. I hope you get it. You're an absolute hottie. Sorry bout ya dad. Thanx for the love mama!

Kyle Rockin McLaughlin – Cool middle name. And I'll be in W. Palm one day. Hope you're there.

Kenya C. Millette – Your letter was beautiful and helpful. Thanx for believing in me and my music. Thanx for your prayers as well.

Chanel Phillips – Thanx for your pleasant words.

Hannes Harnisch – Thanx 2 u and your brother for rokkin my music. I bet your mom is just as cool.

Olisa Colling – Thanx for bein such a huge fan and thanx for the scriptures.

Ashley Kirkland – Your letter was real! My advice is keep writing and you'll be better than you know. I liked what I read. Nice metaphors and analogies.

Amelia Allan – Keep pursuing both careers babe. Don't be so critical of yourself.

Tysen Harris – I'm glad 2 know my music has helped you and if you keep believing then you can become what you believe, friend.

Juanita DeAngelo – Thanx for the admiration and I didn't break the red pen out. And the Tupac analogy was perfek. And I tell moms I love her everyday.

Tavaris Eiland – I'm obliged 2 be your best friend thru my music. And yes I saw it 5-7 years ago. You have 2 see it 2 believe it.

Yesenia Yannini – You're welcome.

Christabel Valdes – You simply flatter me.
Previous: Lil Wayne Second Letter From Rikers Island | Lil Wayne First Letter From Rikers Island