In the above video Drake speaks to MTV on visiting Lil Wayne in Rikers Island and recalls a few things that Wayne told him. Weezy said Drake will sell 2 million albums in the first week, not to get tattoos, and that Drake is better than him. Do you think that Wayne was being serious or was just trying to be motivational ❓ Let us know in the comments.
Also, read about Eminem speaking on a Lil Wayne diss track that he almost created after the jump.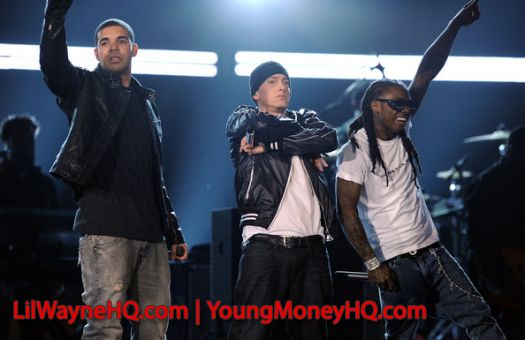 In a recent interview Spin held with Eminem he spoke on a potential Lil Wayne and Kanye West track that he almost created. Eminem stated that dissing Weezy would have been career suicide and that he would have gotten murdered ❗ You can read an excerpt from the interview below and give us your thoughts on this in the comments.
"I thought, 'Man, I can do that shit. He ain't that dope,'" Em said. "I'm hearing this dude say some clever, witty shit and I'm not doing it, so I feel fucked up." Em ultimately opted not to release the unnamed dis track. "It would have been career suicide," he said. "They would have fuckin' murdered me."