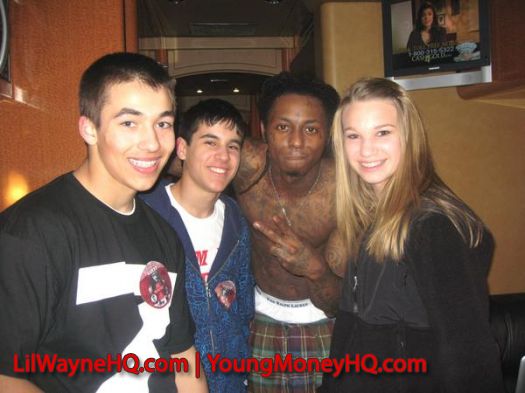 Well we got another letter from Lil Wayne today on his blog, WeezyThanxYou. This time it is a TSC (Tune's Sports Corner) post entitled "The Tricks of the Trade", in which he discusses the recent trades surrounding the NBA. Tunechi gives his opinion on the epic trade of LeBron James from the Cleveland Cavaliers to the Miami Heat, Carlos Boozer to the Chicago Bulls, and more. I am aware that some of our European readers won't really understand this letter (including Danny :P), but for our American readers and sports lovers this will be a great read. You can read the letter after the jump and give your thoughts on the letter in the comments.
Oh Lebron! The recent move by the Miami Heat confirms that we will someday soon have that good ole basketball back with all due respect to the Lakers-Celtics 7 game series. This move reminds me of the days when it was Johnson, Worthy, and Jabbar vs. Bird, Parrish, and McHale, or Thomas, Dumars, and Lambeer. Well now we have Bryant, Gasol, Bynum, and Pierce, Allen, Garnett, and ultimately, Wade, bosh, and James! Do expect this to become "protocol" to win an NBA title. As for many more teams have and will be stacking their rosters with stars.

I believe that this Miami team will be explosive as intended. Anything less than an NBA championship title will be uncivilized. 72-10 anybody?. Well with Wade at the 1 and Lebron at the 2 or vice versa even, or Mario Chalmers at the 1, Wade at the 2, and Bron at the 3… Wow! Not to mention that I didn't mention Bosh, who can live at the 4 or 5. Zone defense will be a must against this team. That's 3 players on the court that commands a double team. Just imagine those guys on a fast break, the defender back peadaling… Wade can take it to the hole or throw it up and you know Bron. Bron is going to get it… or dish it back to a trailing Chris Bosh who will definitely finish at the rim… again, wow! Or how about Wade at the 3-point line, Bosh setting the pick, and Lebron in the passing lane. And if you collapse on them, don't forget that Chalmers can knock down the shot. I bet that they lead the league in alley-oops. And they're all young! Scary! Hey, what if Pat Riley returns to the sidelines and it ends up being the Lakers vs. Heat in the finals? Riley vs. Jackson! Epic! Gasol on Bosh, Ron-Ron on Bron-Bron, and Kobe on Wade… wow!

Also, beware of the Bulls. Boozer will fit in well because they're similar to Utah in many ways. A nice guard surrounded by the shooters. With the addiction of Korrer and Rose should be able to shine brighter. The Bulls led the league in the rebounds last season and I'm sure they will again with Boozer and Noah.

Boston is the team of bad knees! With J. O'neal joining the squad, it adds another big man but his knees are always questionable. So is Garnett's and now Perkins. But still expect them to do well in the east.

The Knicks are injury prone as well. Not only are their spirits injured from not getting The King, but Amare's an injury threat as well as Turiaf and Randolph. If they can stay healthy, then expect Amare and Randolph to be beasts in the paint. Raymond Felton is no Steve Nash but he's a solid point guard. He should do well with Stoudemire. I'm not sure about Orlando in the east this upcoming season. I mean Duhon isn't exactly a good move but it has potential.

As for the West, Minnesota is stacked now with Beasley, Jefferson, Love, and Milicic. Golden State looks good with Curry and Lee. Though I'm not sure if we can expect Lee to brab all these boards in the west. Too many big men. As for the east is full of guards.

I can't wait to see how teams stack up next season when those other big name players hit the market. Maybe Melo and Tony Parker to the Knicks? Or Chris Paul and Derrin Williams to the Lakers? They're gonna have to do something! Good ole basketball.

The Tricks of the Trade.