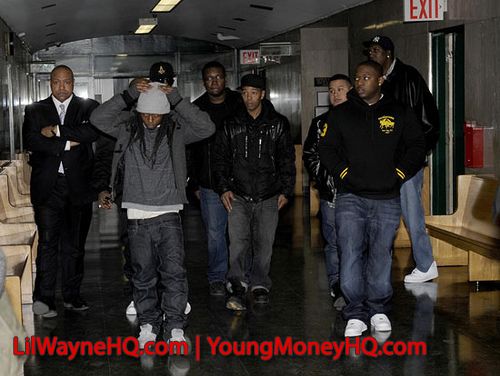 According to AllHipHop, Lil Wayne and Young Money Touring Inc. are suing a former booking agency for $375,000. Weezy has been working with the booking agency, Ujaama Talent Agency Inc., since 2008 and has been on four different tours booked by Ujaama. They owe Tunechi $375,000 in proceeds from his Americas Most Wanted Music Festival, both the Summer and Winter tours. It's nice to see Wayne getting some money back rather than seeing another lawsuit filed against him. You can read the entire article after the jump and leave your thoughts in the comments box.
Rapper Lil Wayne and his company Young Money Touring Inc. has filed a lawsuit against a former booking agent who allegedly stole $375,000 in touring proceeds.

Lawyers for Lil Wayne filed a lawsuit against Ujaama Talent Agency Inc. and the company's owners, Erskine Isaac, David Nelson on August 16th in the Supreme Court of the State of New York.

According to the lawsuit, Lil Wayne has worked with the company since the early stages of his career, by organizing and scheduling tours for the chart-topping rap star on a non-exclusive basis.

Between 2008 and January of 2010, Lil Wayne participated in four different tours with Ujaama.

A dispute broke out between the two companies over the proceeds of the two "America's Most Wanted Music Festival" tours in Summer and Winter of 2009.

Around October of 2009, when Lil Wayne pleaded guilty to possessing a gun on his tour bus, he again engaged the services of Ujaama to book a national tour before he went to jail on Rikers Island.

The lawsuit claims that Isaac and Nelson "elected to divert to Ujaama's own bank account an amount not less than $375,000, the sum that Isaac and Nelson maintain is owed to Ujaama for the tours in question.

Lil Wayne's lawyer Ronald Sweeney had various conversations with the pair and asked for the money back, but Isaac and Nelson refused to return the money.

Just this week, Forbes named Lil Wayne the 4th best-earner in Hip-Hop, after he earned $20 million dollars over the past 12 months.