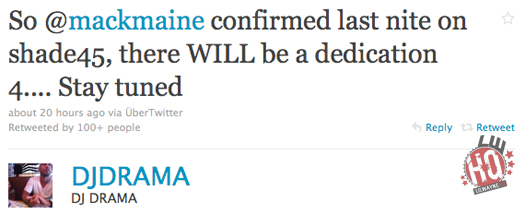 Tunechi's manager, Cortez Bryant, mentioned yesterday that once Wayne gets out of jail, he will most likely release another mixtape of new material for his fans before he releases Tha Carter IV in 2011. Like I guessed, it looks like it will be the fourth installment of Weezy's Dedication series. DJ Drama tweeted this yesterday:
"So Mack Maine confirmed last night on Shade 45, there WILL be a Dedication 4…. Stay tuned".
So we can be looking forward to a Lil Wayne and DJ Drama Dedication 4 mixtape at the end of this year or in 2011 ❗
Also, if you didn't cop a "I Am Not A Human Being" t-shirt, then you can order one here and you may just get it in time for when Wayne's EP album drops.