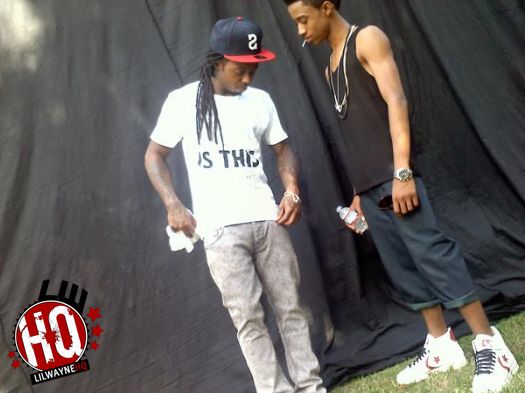 Lil Wayne is getting ready to start his own clothing line, which will be called Rebirth, the same title of his experimental 2010 album. Weezy told XXL Magazine in their July/August 2011 issue that is available on newsstands now, he wants to jump into the fashion business:
"I just figure that I… I'm funky," he explained. "I got that from my stylist, Marisa. I'm funky, like she say. I wear a whole buncha items at one time, you know what I mean? I be figuring you at least want one of them items. Like, 'Damn, I'd love to have that safety pin he got on,' you know what I mean? Anything. I got on these types of shoes, these shorts, this sweater… A year from now, I want all these items to be mine. Rebirth. I want—I just figure people want to be funky like me, so I got my clothing line."
Hit the jump to hear what Cortez Bryant recently told Billboard about Tunechi's Tha Carter IV album, hitting stores on August 29th!
After many push backs, Bryant tells Billboard there will be no more, "August 29, it's not changing." "He put the mixtape and the album in my hand the same day. He turned it in to me yesterday," Bryant tells Billboard. "It's done for the most part, around thirty songs that I need to carve down to twelve to sixteen, with four or so bonus tracks." So much for those unofficial track listings floating around, aye? Bryant confirmed Nas, Jadakiss and Tech N9ne will appear on "Tha Carter IV."

To promote the long-awaited release of "Tha Carter IV," Lil Wayne is partnering up with MTV. After Lil Wayne performs on MTV's Video Music Awards on August 28, the fans will be be able to log on to iTunes "immediately after" to purchase the album.

Target stores will carry an exclusive of the album, Bryant tells Billboard. Bryant did not mention whether the exclusive version will include additional tracks and if so, how many.