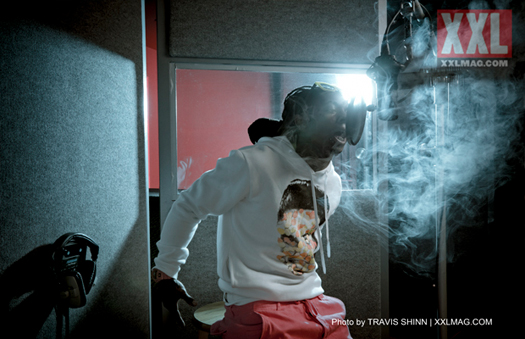 Here, we have an excerpt from XXL Magazine's interview with Lil Wayne for their July/August 2011 issue that will be on newsstands tomorrow (July 12th), and some pics from their photo shoot! You can view the photos below, along with the excerpt were Weezy talks about celebrating with the Mavericks, Tha Carter IV, writing, being a father, and retiring.
Here at Miami's Hit Factory recording studio, where the Young Money rapper is chilling with his crew, everybody cracks up as a camera-phone photo is passed around the room. The picture is of Lil Wayne, who bursts out laughing himself.

Taken last night, Sunday, June 12, the picture shows the international rap superstar and Young Money Entertainment owner standing with one hand on his hip and the other around the NBA's Larry O'Brien Championship Trophy—which had just been won by Dirk Nowitzki and the Dallas Mavericks, with whom he happened to be partying in celebration at Club Liv in Miami Beach.

"We had fun," says Wayne of his night with Dirk and Jason Kidd and Jason Terry and team owner Mark Cuban, who brought the trophy to the club. "Y'all know I'm a Laker fan. They knocked my Lakers out pretty terribly. So, you know, I'm coming from the old school. I'm old-fashioned. Can't beat 'em, join 'em. Before the postseason, people ask you, 'Who you pick?' I picked the Lakers. When your team loses, they say, 'Who you pick?' You pick the team that beat your team. That's who I'd picked. I had picked Dallas in six. They did that. And like I said, they were in the club last night. We chilled. We had fun with Dirk. We did. We kicked it with Mark. The trophy came around a few times to our section. We took a few pictures with it, you know, all in fun. Everybody just had fun, enjoyed themselves."

Wayne, who moved to Miami from his hometown, New Orleans, six years ago, has had The Hit Factory booked out for his Young Money/Cash Money family since November, and as usual, he can't wait to record. The long-delayed, hugely anticipated sequel to 2008's three-million-selling Tha Carter III is finally in the can—with beats from the likes of Bangladesh, Polow Da Don, Swizz Beatz and Boi-1da; features from Busta Rhymes, Bun B, will.i.am, Cee Lo, John Legend, Tech N9ne and, of course, Wayne's Young Money crew; plus an album-closing posse cut with Shyne, Jadakiss and Nas. But Tha Carter IV won't be in stores 'til August, so tonight the tatted-up MC is focused on a mixtape, Sorry 4 the Wait, that he will release in the meantime. He's three songs in and wants to record two more tonight. But it's a hectic atmosphere at the studio. Besides T-Streets, Cash Money owners Baby and Slim, Wayne's managers Cortez Bryant and Gee Roberson, and various other staff and support, All-Pro Cincinnati Bengals wide receiver Chad Ochocinco has stopped in to show love, along with rising Oakland rapper Lil B, who arrives—wearing a YMCMB sweatshirt—with the teenage Young Money rep Lil Twist and the company president, Mack Maine.

"It's amazing, man," Lil B says about the experience of working with Young Money. "I got love for Mack and the whole crew. It's an amazing boost of confidence. Respecting them for so long and them being such a big influence, like, Birdman and stuff. This is…man, a movie. You put everything in perspective. It's amazing. This is history."

XXL: Tha Carter IV is coming this summer. It's probably the most anticipated album since Tha Carter III. It's all wrapped up now?

Lil Wayne: Yeah, it is. I'm just chillin' right now. Partyin' with the Dallas Mavericks, and shit like that. Ain't really doing too much right now.

How do you know when an album is done? When to stop?

You don't. When they tell you. When 'Tez call me and tell me and say, "You got such and such date is your deadline to stop," I be like, "Aight." 'Cause I never stop recording, obviously. So it's just on him to say, "Okay, stop. We're gonna pick these songs, and that's the album." That's how we do it.

I remember, before you went to prison, there was talk about there being a version of Tha Carter IV that was finished, that was going to be released the day you came home in November. Obviously, that never came out, and you've been recording a whole new version of the album since then. What's going on with all of the old songs that you had?

We still think some of them deserve to be heard. So I revise 'em and go and touch 'em, see what I can do to make them better songs. And if that works, once I do that, we'll use it. If not… Another thing what usually happens is, I usually listen to the song and be like, "Yeah, that's too old. I don't like that no more." And Mack or another one of my artists will be like, "Nigga, you trippin'! Can I have it?" And it becomes their song. And other than that, the only other thing that happens is it ends up on my iPad, and I just listen to it forever. Y'all don't hear it. [Laughs] A couple females hear it.

So now that the album's done, artistically, the new songs, what can we expect? I know it's really, like, no boundaries with you.

Yeah. Like I told somebody the other day, I'm not a situation rapper. I don't make songs. Like, a lot of people go, "I make a song about this, what happened." Perfect example, perfect song: Kanye's "All of the Lights." It's a great song, but if you listen to the verses, he's talking about some situation. I don't know if he made the situation up; he may be talking about a situation we know about. I don't know how to do that. I'm not a situation rapper. I can't really speak about us sitting in this room right now, because my mind… I got ADD, I guess. When it's time for me to create, I can't sit and think about… After I think of one line, my mind done went to another subject.

I believe that people enjoy that about me. So that's all you're gonna get when you hear Tha Carter IV is just more of me. And like I told somebody, when I was tellin' 'em about this, I told 'em I don't have to be a situation rapper, which I would love to be. I would love to tell stories like Biggie. But I just don't know how, 'cause my mind just… I'm here and there, everywhere with my music and with my thoughts period.

What is good about me is that I'm an interesting muthafucka. I'm Dwayne Michael Carter period! Whether I'm a rapper or not, I'm interesting. And that's what my album's gonna be about: me and how interesting I am.

I know you picked up the pen and pad again while you were away. Did you pull a T.I. and actually physically write out the new album before recording?

No, no. I mean, I was only writing when I was locked up. And I came home and I used most of the stuff that I wrote that was able to be used. But, of course, some of the stuff that I was thinking in there was without hearing what was going on out here. So when you apply them thoughts to what's actually going on, that shit sound crazy. [Laughs] So I scratched a lot of that. But, nah, I ain't writing. [Laughs] I'm writing phone numbers down… Business phone numbers! I ain't mean no female phone numbers! I got a girl, ya dig! She's 12. Her name is Reginae. Go 'head.

Your daughter, you mean. It must be good to come home and get to spend more time with your kids.

I'm bowing out gracefully, too. I'm bowing out still on top. I'ma make y'all want me when I retire. I'ma make y'all be like, "Nooo!"

I ain't leaving out this bitch when y'all be like, "Yeah, it's about time, dawg." Carter IV might be my last one. I'ma make y'all be like, "Fuck!" Yeah, nigga, I'm gone.

Nah, man, you know they ain't gonna let you leave.

Nigga, I'm about to be 30 years old. I'm 28. I'm not about to be rapping at 30. You trippin', shawty.

Do you remember, last time we talked, in this same studio, you said you were gonna do six more albums? Six Carter albums?

Yeah, I was gonna do six. I went to jail, nigga! Shit fucked—man, Carter IV would've been out! Nigga, we would've been talking about what we were gonna do about Carter V. Next year, bam, Carter VI would've been out, when I'm 30. Bam! We had that shit planned out… [Laughs] I'm fuckin' wit' y'all, man. Y'all know a nigga ain't going nowhere 'til he 'bout 31. By 31—I'm gone by 31, shawty.

Thirty-one? I don't believe that, man. Mack and them are not gonna let you hang it up. I see Baby still doing it.

Well, I'm not Baby. [Laughs]

Honestly, this is the real truth. I honestly think it's unfair to my kids. I'm super dedicated into what I do. Like, it's no questions—it's hands down, I do this. I live this. I don't have a day out my week that I do something else. I do this every day of my life, and I'm not about to stop, 'cause that's the only way you can succeed in this business, is to do it the way I do it. I want to succeed the way I want to succeed. You can succeed. You can put out a hit… But to do it the way I want to do it, to be comfortable to do what the fuck I want to do, you've got to work like no other. Like I said, it's unfair to my kids. So about 30, 31, 32, I gotta get ready. I got three boys and one daughter. She's gonna be a teenager, and they gonna be growing. They gonna be five or six. It's time to get them. Let them niggas know what being a man is about, what being a little boy is about. I'm not trying to have no nanny do that or no uncle or no shit like that. No stepdad or no shit like that. I was raised like, Don't let no other man take care of yours. Even if you gotta take the sacrifice of quitting what you love the most. Like I said, I'm finished at about 31, 32. That's it, shawty.