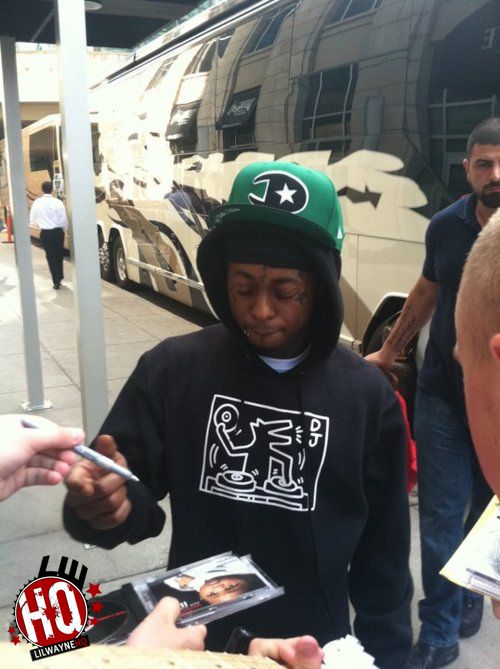 I'm sure most of you Wayniacs have already heard Lil Wayne's "It's Good" record off his Tha Carter IV album featuring Drake and Jadakiss, but if not, you will be able to listen to it on August 29th when Weezy's album will be available in stores. Anyways, on the track (which all of the artists kill by the way), Tunechi disses Jay-Z and Beyonce with these lines:
"Talkin 'bout Baby money? I got your baby money
Kidnap your bitch, get that 'how much you love your lady' money
I know you fake nigga, press your brakes nigga
I'll take you out, that's a date nigga"
This is because of what Jay-Z said on his "H.A.M." song with Kanye West about Birdman:
"I'm like really half a billi nigga
Really you got Baby money
Keep it real with niggas
Niggas ain't got my lady money"
In an interview with VIBE Magazine for their October/November issue, Wayne says he is not worried about any fallout with Jay and that he doesn't think he will take any action:
"I know there won't be any repercussions behind what I did," says a confident Wayne when asked if he had second thoughts about recording his acidic verse for 'It's Good.' "I know for a fact music is about perception. You can't do anything but perceive what you hear. I know that for a fact. So I can't ever be upset about someone's reaction. I'm not going to say I don't know what would happen before I even say something on record," he explains. "I do know what will happen. I'm aware of it. But it is what it is."
Jadakiss has already said he wants nothing to do with the Lil Wayne and Jay-Z "beef" on Twitter:
Y'all hating ass cocksuckers better chill… they only sent me a track wit NO verses and I recorded that verse 3 months ago! #leavemeoutofit
When I diss niggas or have a problem with any rapper, I say there names without hesitation and y'all know this already!
So what do you think about Tune's diss to Jay-Z, and do you think Jay will respond ❓ Let us know in the comments below.