In the video above, Detail (producer of "How To Love") speaks about working with Lil Wayne and him being an icon on the red carpet at the 2011 BMI Urban Awards. He also says Tune won't retire anytime soon, because we listen to Wayne and not Wayne's records.
After the jump, you can watch Big Sean's reaction to Weezy selling 964,000 copies of Tha Carter IV in the first week, and read what Wayne said about the similarities of his "John (If I Die Today)" single and Rick Ross' "I'm Not A Star" track.

Big Sean's reaction to Lil Wayne selling just under 1 million copies of C4 in the first week.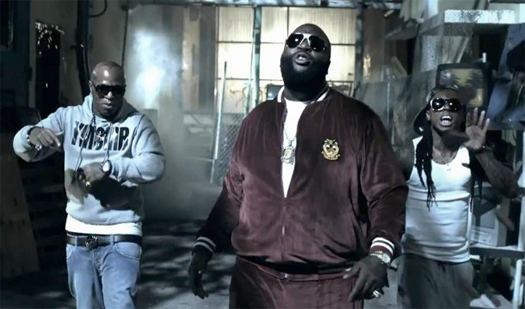 Weezy recently spoke on the obvious similarities between his Polow Da Don-produced song, "John," and Ross's track, "I'm Not A Star."

"We heard the beat, and I was fresh out of jail, you know, so I ain't really know new music—no new music," Wayne told XXL. "I ain't really know about nothing, so, we heard the beat, and when it came on, Mack Maine—it just made Mack say that Rick Ross line. Mack just said that 'I'm not a star, somebody lied, I got a chopper in the car.' He's like 'that beat sounds just like that.' And I was like 'does it sound so much like it to where I shouldn't do it?' And he was like 'nah, cause that bitch still hard as fuck.' So, I did it and I was like 'I need a hook.'"

Weezy thought it was appropriate to include Rozay on the record. He called The Bawse and gave his friend two options. Wayne told Ross that he preferred a chorus that used lines from "I'm Not A Star," however, Ross was also free to make a completely fresh hook.

"He could have just put a hook on there," Wayne said. "He could have said something else, but he did what we wanted it to be, and I just added the other part."