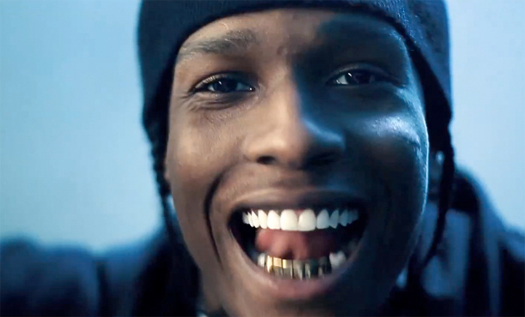 During A$AP Rocky's recent interview with Complex, he spoke about how he feels hip-hop has changed because of rappers like Lil Wayne. You can read a couple of excerpts from the interview below, which will appear in Complex magazine's December 2012/January 2013 issue!
How do you feel about the culture of hip-hop changing? Lil Wayne is skateboarding now.
That's dope. I put Wayne in Jay-Z and Kanye's bracket, in terms of success. Wayne is still fun. Are we forgetting that Wayne made everybody switch their flow up and start using the E's and R's, and "I'm ir-regul-ar, seg-ular"? Like, c'mon, are we forgetting that Wayne changed hip-hop, too? Are we forgetting that he made all these motherfuckers want to have tattoos? Are we forgetting that? It wasn't Wiz, it was Wayne. Wiz did it, too, but I'm just stating facts. This is a guy who fucking went from being the youngest underdog in his crew to saving his company, and saving his "Daddy." I'm not a fucking Lil Wayne dickrider—I'm just speaking facts.

That's fair.
People can say what they want about him with the way he dresses. I hate the way he dresses. I'm keeping it 100 with you. It's very tacky at times. But that's what he chooses to do. Get off his dick! If that's what he chooses to wear, OK. At least he's not wearing it 'cause he saw some other lame motherfuckers wearing it. That's when I don't respect it. He's doing him! Maybe it doesn't work for you, but it works for him. So we need to get off his dick and let that man be legendary.
Personally, I think all of these "new" rappers (such as Kendrick Lamar and Meek Mill) have been influenced by Weezy somehow with their music.
What do you think ❓ Do you agree with what A$AP Rocky said about Tune ❓