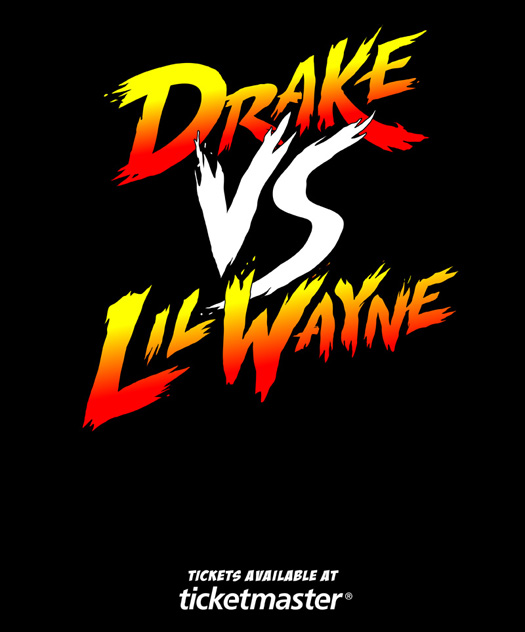 According to TiqIQ, Lil Wayne and Drake's upcoming joint summer tour is looking to be the most expensive hip-hop collaboration tour as they beat out Eminem and Rihanna's "The Monster Tour", as well as Jay-Z and Beyonce's "On The Run Tour".
From the amount of tickets that have hit the secondary market from brokers and pre-sales, the average price for Drake vs Lil Wayne tickets is $249.20, 6.4% higher than Jay-Z and Beyoncé tickets for On the Run, which have an average secondary price of $234.16. Eminem and Rihanna tickets for the Monster tour will be the cheapest hip-hop tour tickets this summer has an average price on the secondary market is currently $217.81, 12.6% cheaper than the Drake vs Lil Wayne Tour and 6.98% cheaper than the On the Run Tour.

The tour's most expensive date is currently the September 27 stop at the Cynthia Woods Mitchell Pavilion in Texas, which has an average price of $314.51, 26.2% above the tour average, with a get-in price of $55. The least expensive concert will be at the DTE Energy Music Theatre in Michigan on August 17 as the average price is currently $157.26, 36.9% below the tour average and 50% below the tour's most expensive date in Texas. The get-in price does not differ much from the most expensive show at $53.
On top of holding the highest average secondary price for their upcoming tour, Drake and Lil Wayne are also the youngest artists among all three collaborative mega tours in the hip-hop genre this summer. At a cumulative age of just 58, Drake (27) and Lil Wayne (31) are younger than Jay-Z and Beyoncé's collective age of 76 and Eminem and Rihanna's combined age of 67. The rap duo has also collaborated for more songs than either of their competitors, garnering over 30 songs and 17 Billboard hits together in comparison to Jay-Z and Beyoncé's nine collective songs and Eminem and Rihanna's four songs in "Love the Way You Lie (Pts. 1 and 2)", "Numb" and "The Monster".

Though Jay-Z and Beyoncé have been married since 2008, Drake and Lil Wayne have a more extensive history in the musical world together. As they gear up for their North American tour this coming August, fans can expect secondary prices to continue to rise as anticipation builds for the duo's first headlining tour together.
Via Forbes
If you didn't already know, the tickets for the "Drake vs. Lil Wayne" tour have now gone on sale to the general public, so be sure to get yours today from Ticketmaster!