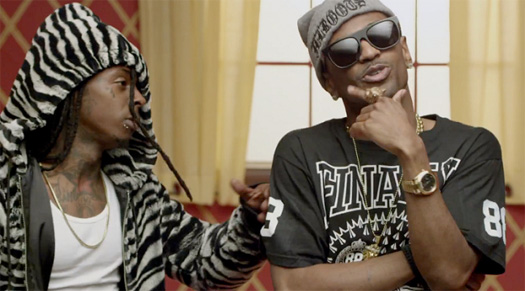 We saw Big Sean chat to The Breakfast Club about Lil Wayne's verse on his "Deep" song yesterday, and now here is another interview of Sean talking about the verse; this time with MTV. If you haven't yet heard "Deep", Weezy gives Sean Don a nice co-sign in his lyrics:
"I feel like Sean don't get enough shine; Is it because he ain't got the tattoos? He ain't throwing up signs? Well let me throw up mine and also let me share this vision of mine; Fuck the finish line, just finish in lines; And if getting your point across crosses the line; Some of the time, then cross it with pride; That's real my nigga, remember that; And it ain't about if they remember you, they remember rap; So just spit it back and hope somebody diggin' that; Cause this shit is deep"
In the interview that you can watch below, Big Sean spoke on being humbled by the co-sign, Tunechi calling him one of his favorites when they were in the studio together, working with Drake and Kanye West on "Blessings", and more!
"I didn't have a conversation with him prior to the verse, really, about what we was gonna rap about. I played the song for him, and then he did his verse, and the next day, we were in the studio together and he gave it to me. He was just like: 'You know man, I meant every word of this verse. You one of my favorites. You one of the best.'"

"He was just like: 'I meant every word of it man.' And I thought that was just some real shit, cause I'm not signed to Lil Wayne, you know what I'm saying? The fact that another artist could put they ego aside, big up another artist like that and not be getting no money off of them away from the songs we do together, I think that's just real. That's OG status."