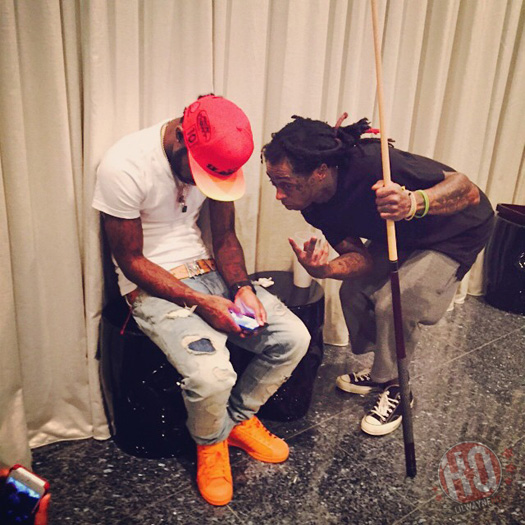 Bone Thugs-N-Harmony recently had a show at the Vogue Theatre in Indianapolis, Indiana. Afterwards, BET caught up with the Cleveland rhymers for an interview about how they feel about getting a lot of love from other rappers in the music game today.
This is then when Krayzie Bone, Wish Bone and Flesh-N-Bone gave "a big shout out to Lil Wayne" for showing them love since day one, as well as called him out to collaborate with them in the studio. Flesh also revealed that he listens to Weezy "so much"!
You can read exactly what they said after the jump below. Who would love to hear a Bone Thugs and Tunechi collaboration?
In addition to fans, you guys have gotten a lot of love form other artists especially recently.

Krayzie: I gotta show love to the dudes from this generation that's been showing love, which is Wiz Khalifa, which is Drake, Which is Lil Wayne, which is Kendrick Lamar, J. Cole, A$AP Mob. There's a lot of young dudes that understand what it is and people always talk shit about these dudes but these are the guys that respect and pay homage to where the art came from.

Flesh: And really what they're doing, Kray, is solidifying the legacy of Bone Thugs-N-Harmony, and it's an amazing thing to see a lot of hot new artists that are like 'Fuck that, it's Bone Thugs-N-Harmony that inspired me.' Also we have to give a big shout out to Lil Wayne. He's killing' it right now. I listen to him so much and every time we turn around he's figuring out a way to flip Bone Thugs in his poetry.

Krayzie: Lil Wayne been showing love since day one.

Wish: On that note, Lil Wayne, we waiting, nigga let's get in the studio. Let's do it nigga! We fuck with you.

Flesh: You heard him Lil Wayne, let's go!