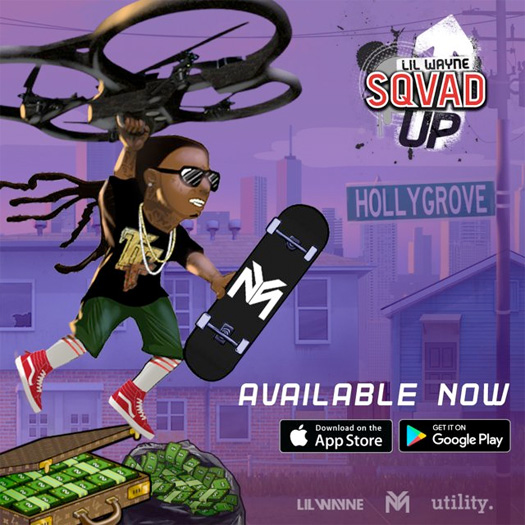 After first getting word about his new business venture a few days ago, Lil Wayne's "Sqvad Up" mobile game that was developed by mobile/technology company UTILITY has now been released and is available to buy from Google Play and the iTunes App Store.
The app/game, which is free, includes music from New Orleans artist Nesby Phips and is set in Tunechi's hometown Hollygrove. However, an update will soon include the cities of the other places that Tune lives in – Miami and Los Angeles.
Professional skaters Tyreek Morrison, Evan Hernandez, Yosef "YoYo" Ratleff, Andre Colbert, Jereme Knibbs, and Edgar Benitez are all unlockable characters. The goal of the game is to skate and fly on drones through Hollygrove while collecting money, but making sure to avoid birds and other obstacles/hazards.
Click here to see how you can download "Sqvad Up" for your mobile phone! Have you began to play it yet? If so, leave a comment below with what it is like.