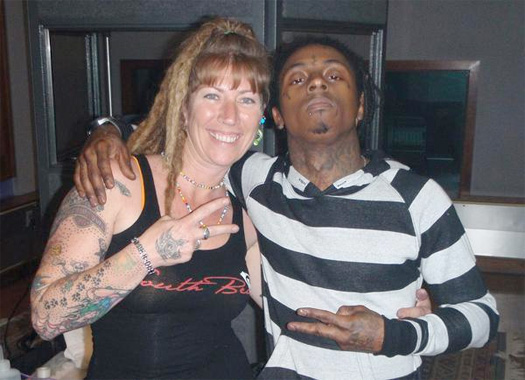 Dow Hokoana, who is responsible for inking over 300 of Lil Wayne's tattoos, recently chopped it up with The FADER for an interview about being his former full-time tattoo artist, which you can read below.
In the conversation, Dow spoke on how Weezy found her, why he wanted her to be his on-call tattoo artist, what an average ink session was like, the cloud and lightening bolt on Tunechi's cheek, what she had learned about Tune, her favorite tattoo she did on his body, and how working with him changed her life.
Hokoana also talked about tattooing Lil Wayne's penis (pause), the process of tattooing a male's genitals, tattooing a colored checkers board across Wayne's bum to see how color would look on his skin tone, receiving a phone call at 3:30AM to ink Andy Warhol's Campbell's Soup Cans logo on his body, and more! She wouldn't reveal what Mr. Carter has tattooed on his penis, but she did say it's an image from tip to tail, so could it be a sign that reads "bad bitches only"?
How did Lil Wayne find you?

A tattoo artist who I had never met named Duel had done a couple tattoos on Wayne and had heard that he was looking to find an artist who could basically sign on, kind of as a full-time deal, to tattoo him until he had a complete body suit. He preferred a female because he was doing a complete body suit. Duel, who had seen my work around South Beach, recommended me.

Wayne ended up sending his PA into my shop one day and asked if I'd come out to the Hit Factory where Wayne was recording because he wanted to meet me and talk about some tattoos. At first I looked at this guy like, "Yeah right," at which point he looked at me and went, "Look, Wayne asked for you by name, he'd really like you to come out but if you don't I am going find someone who will." That broke it down nicely enough for me, so I called my boys that I worked with and I gave the license plate number of Wayne's escalade and I said, "If you don't see me in the morning, call this number in" [laughs]. And that was the beginning of a seven-year relationship. I've done approximately 300 tattoos on him.

Walk me through an average tattoo session with Lil Wayne.

It really varied. Typically he wants to be tattooed in the night time, so my average time with him was meeting with him around midnight and staying until about 7 a.m. Of course on tour, it's: do the show, he does his thing, then around 1 a.m. I go to his hotel room.

He's the most gracious respectful man I've ever worked for. He's been great to me, and I'm like the odd duck in this crew for sure. I'm an older white woman, old enough to be his mom, who's definitely not an avid rap listener. But that's never had any bearing on how he's treated me. He just wanted someone he could trust, someone who could do the job to his standards, and he's got a work ethic like a mule for sure.

What's something unexpected that you learned about Wayne while working with him?

Just to find out what an awesome guy he really is. He really does care very deeply about the things he believes impact his life. It was always really a very interesting scene. The clowning that goes on on the bus. Wayne renting out whole bowling alleys so we could have a day off. That was one of his favorite things to do on tour. After so many days, everyone gets a total off day and very often he'd make it a family bowling day.

He can also be really silly. Once on the bus, one of the guys fell asleep and he poured Tabasco sauce in his mouth. He was like, "Nobody sleeps if I'm awake!" And this was a big guy. Wayne thought he would wake up when he poured it in his mouth but he didn't even wake up and like an hour later he woke up wiping his mouth yelling, "What is wrong with my mouuuuth?" The list goes on. How you see him is really how he is. He never made me play mindreader.

What's the most iconic piece that you did for him, and how did it come about?

He has a cloud and a lightening bolt on his cheek, up by his temple. One day he's like, "I want that" and points to my daughter's book bag and there was this lightening bolt on it. I was like, "You really want that? I'm a custom artist. I can do some cool stuff." Sometimes he just doesn't want it to get that deep. Sometimes it's "just a tattoo." But sometimes it did mean stuff. The one I liked best is on his hip. It's one that people hardly see, but it wraps the whole side of his hip. It's of 10 individual Vegas-style showgirls, some are just the head and headdress, some are full bodied. It's really cool looking.

One time he hit me up at like 3:30 in the morning for a tattoo of Andy Warhol's Campbell's soup can. I'm like, "Oh okay, you just want me to duplicate this famous piece of art in tattoo form at 3:30 in the morning? Sure boss" [laughs].

You originally said Wayne brought you on to complete the lower part of his body piece — is it finished? Like, every part of his body?

Yes, his body suit is complete. In one other article, I wondered if we would ever do all of his body parts and I had made a guess that it would happen in three years. And sure enough, three-and-a-half years later we did every part of his body.

How did Wayne handle the more, um, sensitive areas?

Even being a female all you can do is basically hold your own breath while tattooing [that area] because it's just… [makes a painful crying sound]. I've done this for a few clients. I'm sure [Wayne] was in pain, but he took it like a G. For real. It was yeeesh. But it happened. It took about 45 minutes. He's a G.

What exactly is the tattoo on his…

I think that's something that he would probably would want to speak on himself, if at all, so I'm going to keep that private. However I will tell you that it's from tip to tail, it's an image that goes straight across the board. I can tell you that across [Wayne's] bum is a colorful checker-board. The reasoning behind that is that he wanted to try color but thought it wouldn't show up or stick to his skin tone and I wanted to prove a point, that using the correct colors and toning even across a darker surface will absolutely show up. So both butt cheeks are black square, colored square, black square, colored square, etc.

What's the process of tattooing a male client's genitals like? Does it have to be… does he have to take Viagra… or…

Oh boy, this is where it gets awkward [laughs]. Contrary to popular belief, it cannot be hard at all. Basically, my gloved hand is palm up and the head is going to sit right on the palm of my hand and I'm going to put my thumb over it and push it down so that it's flattened and wide across my hand. One time I had a guy get a little nervous and it was getting a little edgy and ­— it doesn't work inflated ­— I'm going to hit that and it's going to deflate so quickly because of the nerves and sensitivity. You could never do it, no matter how badass you are.

How has working with Lil Wayne changed your life?

Wow. Dramatically. He has always supported me. I was basically just another female tattoo artist in South Beach. I did very good solid work, but the level of art that I've seen come out of that city floored me. It really was amazing to feel like he chose me.

It still surprises me, like he's been in L.A. and said, "Hey, can you get on a flight in about 2 hours," and I told him, "I could call anybody for you — Kat Von D, anybody will come to your hotel room for what you do for me. And he's like, "Well I don't want them." To feel that level of support and to be able to go on and, no joke, no matter where I go there are people who come and get tattoos from me and say they wanted me before they even really went through my portfolio because I tattooed Lil Wayne. That's wow. I could never do that on my own.

Moving forward, what does your future look like with Wayne?

He's called me twice since he's moved to L.A. and I've stayed [in Miami]. Nicki, Drake, Twist and those guys moved to L.A. too, so with him being done [with tattoos] most of my work was, "Hey can you come hit up this guy," like his friends. I've done Cee Lo Green, I've done a bunch of people through him. I live a very simple, low carbon footprint kind of lifestyle. Needless to say, as much as I love Wayne, he's kind of the other side of that. I think Fort Myers beach is the perfect spot for me. But I'll always have love for him. He's the best.