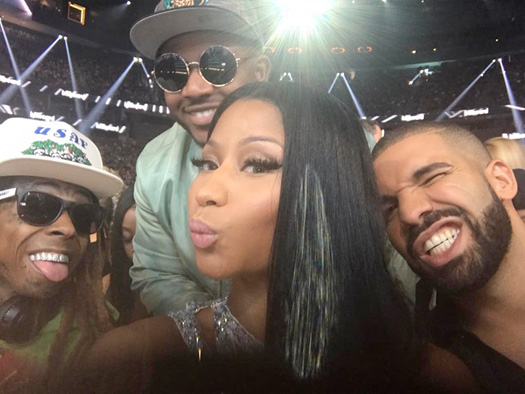 Forbes have released a top 20 list of the rappers who have made their 2017 Hip-Hop Cash Kings list. Lil Wayne appeared on this list at No. 16 by earning around $15.5 million, which is $1.5 million more than what he earned last year.
Weezy's Young Money artists Drake and Nicki Minaj also made the top 20 of this year's Hip-Hop Cash Kings list with Drizzy appearing at No. 1 with $94 million and the Barbie appearing at No. 15 with $16 million.
You can check out the full top 20 list after the jump below!
1. Diddy ($130 million)
2. Drake ($94 million)
3. Jay-Z ($42 million)
4. Dr. Dre ($34.5 million)
5. Chance the Rapper ($32 million)
6. Kendrick Lamar ($30 million)
7. Wiz Khalifa ($28 million)
8. Pitbull ($27 million)
9. DJ Khaled ($24 million)
10. Future ($23 million)
11. Kanye West ($22 million)
12. Birdman ($20 million)
13. Swizz Beatz ($17 million)
14. Snoop Dogg ($16.5 million)
15. Nicki Minaj ($16 million)
16. Lil Wayne ($15.5 million)
17. J. Cole ($14 million)
18. Macklemore & Ryan Lewis ($11.5 million, tie)
18. Rick Ross ($11.5 million, tie)
20. Lil Yachty ($11 million)