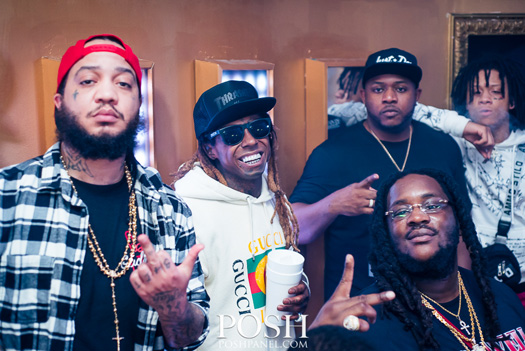 Trippie Redd recently chopped it up with Billboard to promote his new project, A Love Letter To You 2, which is available online now.
During their interview, Redd spoke on getting a co-sign from Lil Wayne, never going anywhere without a photo of him and Weezy in his bag, feeling like a "baby Wayne", and more.
You can read everything what Trippie said in his conversation about Tunechi after the jump below!
Which artist caught your attention early on?
[Lil] Wayne. I keep this in my bag and I don't go anywhere without it [pulls out a picture of him and Lil Wayne]. [Laughs.] It was fun. He hopped on another song. We was working way before that though. I had told my fans a long time ago when I had blue dreads, I was like: "Me and Wayne about to have a track." Me, Wayne and [Lil] Twist. Everybody was waiting for that shit.

Lil Twist was trying to sign you at one point, right?
I mean, we were cool. It was like, I thought I was going to be…I don't know. I don't even wanna talk about it for real [Laughs]. That's the homie, though. That's my brother.

Do you feel any pressure to succeed with your sequel project A Love Letter to You 2?
All I do is get better. I'm young. I feel like baby Wayne.

How did the "Fuck Love" record with you and XXXTentacion come about?
Detail had produced some shit and I had a studio session with him and X. I had took the beat, because X didn't want the beat. I wanted the beat, so I went and laid down the chorus. I was in Wayne's studio in Miami with Hoody. He let me throw some shit, so I just did that and kept the chorus. I posted a little snippet on Instagram, and that nigga must have screenshotted that shit fast as fuck, talking about: "Boy, if you don't give me this for my album, nigga…." I was like: "You can have it, bro. I ain't tripping."