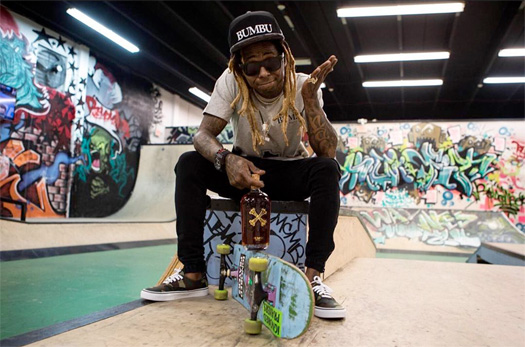 Pigeons And Planes shared an article yesterday that paid tribute to Lil Wayne and broke down Wayne's influence on hip-hop in 2018.
They shared quotes from the new generation rappers, such as Nessly, Caleborate, Wifisfuneral, Yung Bans, Shy Glizzy, Bernard Jabs, and NUE, as well as the older generation rappers.
I have posted all of the new quotes from the article of the new-gen rappers explaining why Weezy is their idol below, but I left out all of the old-school rappers praising Tunechi as all of them quotes can be read here with plenty more hip-hop artists giving nice compliments to Tune!
Nessly:
"The first time I heard Lil Wayne's music was probably 'Go DJ.' At the time I didn't think much of it, I treated all rap the same. I was only about eight years old so it was hard to judge the lyrical content and choose a favorite but I do remember admiring his style a lot more in my later years with his raps and his fashion."

"Lil Wayne was the reason I started using Auto-Tune in my music. He was the reason why I started trying to learn the art of a punchline. Without Lil Wayne there would be no Nessly."

Shy Glizzy:
"I was young as fuck when I first heard Lil Wayne, Hot Boys, and shit. I thought it was dope, he stood out more than the rest of them from the get go. Everyone was good but he stood out, because he was the youngest and I gravitated to the talent he had. I was putting gum wrappers and shit on my teeth at school because of Wayne."

"Lil Wayne wasn't the first with the melodic flow, but he wasn't afraid to use his voice in different ways, putting the craziest words and flows together. He wasn't scared to say what the fuck he wanted to say. That's what I took from Wayne and how he inspired and influenced me. He inspired me to rap in general, he's the music I was on when I was young. I had a face tat when I was young because of Wayne."

Caleborate:
"I think the first time I heard Wayne was when he was with the Hot Boys singing 'Bling Bling.' He invented that shit! I was like 9 or 10 or something. I just remember being like: "damn, he's so cool." He was all skinny and tatted, and LIT! He was just electric. I remember the way my brother and his friends used to go crazy to Cash Money and the Hot Boys. It was cool as fuck to me, man."

"He was the first to do what he did. All through his career he's been innovating, from fashion to slang to content to his business plan with Young Money to discovering Drake. He is basically like a spirit animal of mine. He showed me how to go beast mode, how to become a monster and just eat every beat I get on."

Wifisfuneral:
"First time I ever heard Lil Wayne's music, I was watching MTV Jams when I saw the video for 'The Block Is Hot' and I was just so astonished. I was about 5 or 6 when I saw the video and I was just in shock that a young kid was killing shit. His legacy is in volumes music can't speak. He's the reason why I tatted my face to begin with."

Yung Bans:
"The first time I heard Lil Wayne it was fye. It was the first time I heard music I could almost relate to until Chief Keef came out. He let me know this shit can really happen for a young nigga like me."

Bernard Jabs:
"The first time I heard Wayne's music I was watching 106 & Park on BET and the 'Stunting Like My Daddy' music video came on. Wayne had his shirt off with tattoos everywhere and diamonds on. I thought it was the coolest thing ever. Then in the next scene I think he was riding a motorcycle. I didn't even like motorcycles, but when I saw that I loved them. He just looked like the coolest person ever. Didn't give a fuck about nothing and did what he wanted, and he still that guy, I love that shit."

"Wayne the most influential rapper of all time. He was the first rapper and person I ever saw with a face tat, now everybody got one. He was the first rapper I heard using Auto-Tune, now everybody use it. He was one of the main pioneers for lean and pills, now everybody on it. Dude made not matching clothes look cool. He did what he wanted and it worked, uit stuck. That dude the reason I wanted to rap period, since I was five."

NUE:
"I remember just thinking 'this guy is cool' when I first heard Wayne. To me as a kid everything he did was the coolest shit ever; his voice, the beats he got on, the clothes he wore, everything."

"Wayne just always inspired me to be different. He taught me that there really are no rules with this music shit, you can do and say whatever you want. Wayne put on Drake, the guy that's responsible for Toronto even having a name in this music culture. So his influence on Toronto culture is bigger than anything I can put into words."