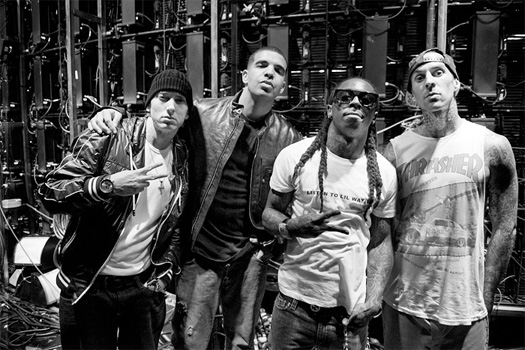 Travis Barker recently sat down with British magazine, Kerrang!, for a feature interview.
In their interview, the drummer for rock band Blink-182 discussed what it was like performing with Lil Wayne, Eminem and Drake at the 2010 GRAMMY Awards in one of his very first live performances whilst being sober.
You can read exactly what Travis had to say about this experience and how crazy it was to be on stage at the same time as Wayne and Em below! I have also included a video of all four of them performing "Drop The World" and "Forever" live at The GRAMMYs in case you wish to see it again!
One of your first clean performances was with Lil Wayne, Eminem and Drake at the 2010 GRAMMYs. What was that like?
"I was doing a lot of collaborating with Wayne at the time. Then seeing Drake come up, who was really recognised in the beginning as one of the best new lyricists around, was so cool. And Wayne and Eminem collaborating onstage together was just crazy. For me to be there and be chosen to be the drummer for that was really cool. I was still wrapping my head around being sober, like, 'Oh shit! How do I do this?' Just figuring out, 'How do I even do all this, not medicated?' I remember that as being one of my first big achievements after I stopped everything. But make no mistake, I owe everything to blink-182. There would be no highlights like that if I wasn't in this band to begin with."