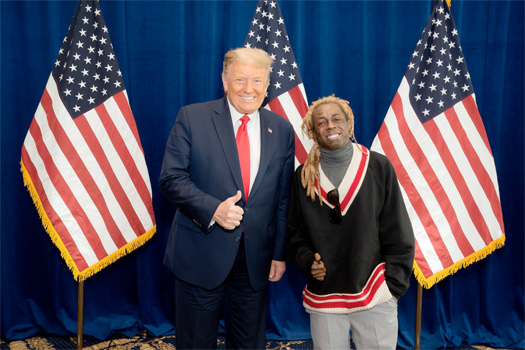 Days before the presidential election, Lil Wayne has revealed he had a "great meeting" with the President of the United States of America, Donald Trump, yesterday to discuss criminal reform and the Platinum Plan.
"Just had a great meeting with [Donald Trump] besides what he's done so far with criminal reform, the platinum plan is going to give the community real ownership. He listened to what we had to say today and assured he will and can get it done."
The US President has promised that his Platinum Plan will aim to increase access to capital in Black communities by almost $500 billion in 4 years. Not long after their meeting at a campaign stop in Florida, Trump was asked how it all went with Tunechi to which he called Tune "an activist in a really positive way".
Even though Wayne has gave Donald Trump his endorsement, I do believe that he is not allowed to vote, due to his previous gun possession charge. You can view a photo of the two of them giving the thumbs up while in front of USA flags above and check out a short clip of Trump speaking on his meeting with Weezy below!
Just had a great meeting with @realdonaldtrump @potus besides what he's done so far with criminal reform, the platinum plan is going to give the community real ownership. He listened to what we had to say today and assured he will and can get it done. ?? pic.twitter.com/Q9c5k1yMWf

— Lil Wayne WEEZY F (@LilTunechi) October 29, 2020