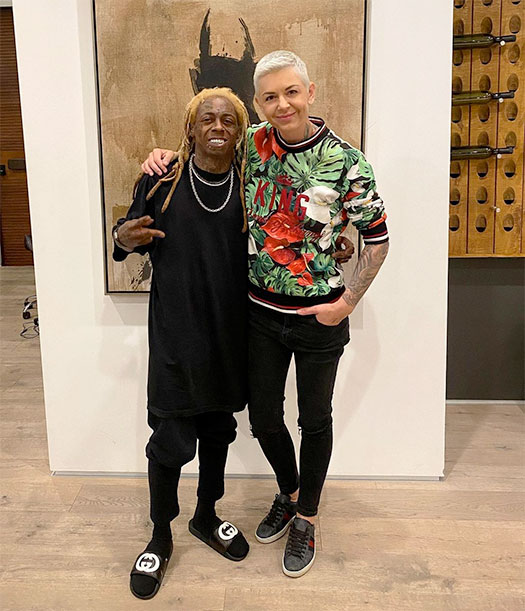 After giving Lil Wayne 4 new tattoos (including the cross touch up on his face) at his home in Beverly Hills earlier this month, Ivana Beláková spoke with Nové Čas all about the experience.
During their interview, the Slovakian tattoo artist talked about how the opportunity to tattoo Tunechi came about after first adding ink to Tune's homies Lil Twist and HoodyBaby.
Ivana also revealed what the experience of chatting with Wayne about life, music and food was like, what Weezy is like as a person, and much more! Have a full read of everything she said below!
She is a sought-after artist in the world. Especially in the United States, where she has lived for a long time, she has built a strong fan base. That's why several Hollywood stars want her beautiful works on their skin. Ivana can be proud of a whole list of famous names. Singer Rita Ora (30), singer Chris Brown (31) or member of the hip-hop trio Migos Quavo (29), or rapper Lil Twist (28). "They are artists with whom I have been working for some time, we meet in a friendly way, but also through my work, because they like my style," Ivana revealed. The latter is an artist for Young Money Entertainment, founded by world-famous rapper Lil Wayne (38).

Ivana received an invitation from her friends to record a new single by Hoody and Lil Duke with Chris Brown. "Of course, I accepted the invitation, because it's a big deal after all, and seeing a clip of such famous people live is an experience," she exclaimed enthusiastically. As she said herself, there are a lot of people moving in the shooting of the videos "and this is where I met Lil Twist, who is a close friend / family with Lil Wayne". On this occasion, she directly tattooed rapper Twist, as evidenced by the photo on their Instagram accounts. So to speak, they just caught your eye. It must have been a surprise to Ivana herself when Lil Wayne himself contacted her on the same day. Her work enchanted her so much that he invited her home for a tattoo.

A few days later, she parked at his residence. "I was greeted by security and assistants as soon as I parked the car. They took me to the bottom, helped me create space for tattoos until Lil Wayne himself came, "she described her initial impressions. He greeted her with a big smile and hug. Although it is one of the common greetings in America, it does not work so easily with rappers. "If someone makes a good recommendation about you, as Lil Twist and Hoody gave them, then there is no wall between us," Ivana explained.

As an artist, she loves similar art-based souls. And that's exactly what the legendary rapper was like. "He impressed me wonderfully, he was laughing, he radiates energy, humility, art. We talked for a long time, he was wondering where I was from, how much I already live in America and similar questions for me, "she revealed about the artist. They discussed various topics, whether food, music, or life. In addition to tattoos, even his personal chef cooked them specialties from the invention of the world. She wasn't done until half past one in the morning, adorning his skin with four more tattoos. One of the tattoos was the already mentioned cross on his forehead between his eyes, which he only fixed. What are the remaining three so far remains shrouded in mystery.

The artist was also pleased with the gifts that Ivana personally brought him. It was a cap of her ITA LOS ANGELES brand with the inscription "just Love" and her book just Love, Tattoos and Sushi. In return, Ivana acquired a rare client, with whom "we have other plans, which I am very much looking forward to! It will be great! "At the same time, she is invited to his concerts as a VIP guest and is always welcome at his home. Lil Wayne is simply a top for her. "He was very kind, respectful and generous to me. Exactly as I imagined that a celebrity of his caliber will behave, "she appreciated his qualities.