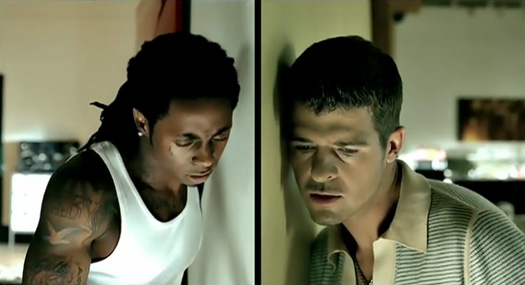 While on the "The Kelly Clarkson Show" recently, Robin Thicke recalled a bank robbery he witnessed that ended up inspiring his "Shooter" collaboration with Lil Wayne.
Robin tells Kelly Clarkson that when he was 18-years-old, he was inside a bank when some guys with masks and guns entered and robbed the place. He wrote a song about this experience titled "Oh Shooter" for his debut studio album, A Beautiful World.
Years later, Wayne put his own spin on the "Shooter" track and added it to his Tha Carter II album, which Thicke says he ended up getting a Grammy Award for it. However, I think he is getting mistaken with Tha Carter III album. Check it out below!
"When I was around 18-years-old, there was a crazy story that took place where I was in the bank getting some cash for a weekend vacation and the bank got robbed," explained the singer. So, these two guys came in with masks, automatic weapons, and told everyone to get down on the ground. And so, I ended up writing this whole song about my experience going through a live bank robbery, and years later, Lil Wayne ended up doing a verse on it and put it on his album, and he won a Grammy on that album, actually."