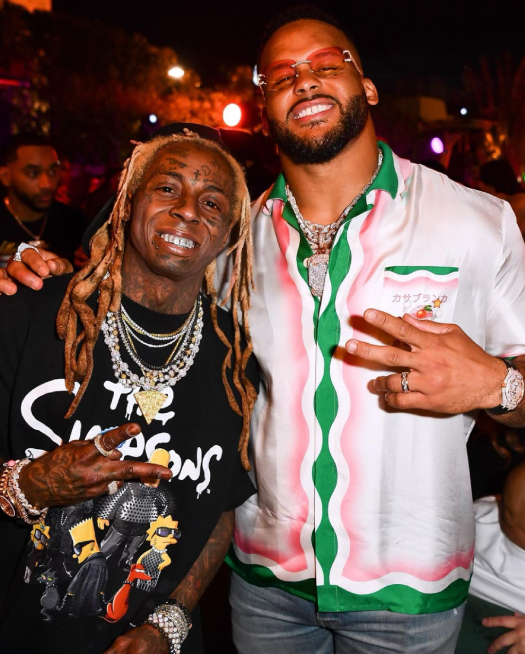 Actor Naveen Andrews recently chopped it up with IndieWire for their "My Favorite Moment" series to speak about some of his favorite moments in the American drama "The Dropout".
In their interview, Naveen talks about the scene in "The Dropout" were Amanda Seyfried's character Elizabeth Holmes dances and sings along to Lil Wayne's "How To Love" single for his character Sunny Balwani.
You watch this scene in the video below, as well as also read exactly what Andrews said about it and how it nearly played out in a different way. You can find "The Dropout" on Hulu! Do you watch the TV show?
You certainly have plenty of choices of scenes from this show that are pivotal for Sunny. What was it about this one that stood out to you?

It turned out to be everything that I wanted it to be already in the script. And at the same time, it was unpredictable. It shows you how it's made in the editing room. The Lil Wayne song was shot on both sides, where we were both singing verses to each other. So you saw Sunny doing a verse to her. Having seen the finished scene, I realize that it would have been too much. I mean, it's so close to the edge anyway. You want to be laughing, but because it's really uncomfortable. It's such a fine balance. You're not playing it for comedy, because it's not fucking comedy. It's very dark. [laughs] It should be horrifying, in the right way.

When you read this scene in script form, what was the first thing that you as a performer latched on?

I fucking hate a lot of that music. I'm old. I can't relate to it. There are other people who might enjoy it. It's suitable for the piece for obvious reasons, I hope.

So the first thing I did was tried to familiarize myself with the tune, so you can lip sync it. You could maybe sing it if you want, to get the pauses and rhythm. And then, because I'm English, I look at dramatists like Dennis Potter, who use music where the characters would actually be lip syncing whole songs for dramatic purposes. So it has to come from a real place. That's what I tried to do. Also for Elizabeth and Sonny, it's their song. 'They're playing our song, darling.'

I can't speak for Amanda, but I find acting hard. It's not easy. And there's so many different levels that you have to be aware of, particularly when there's subterfuge and intimate partners concealing things from themselves. The way we played it was, at the end of the song, the screens are coming down outside, so that they're going to make love. Of course, that doesn't happen. It doesn't happen for a reason, which is why I feel this scene is important. For the first time, Sunny wants the truth. He's able to articulate that it's not fucking working. "Are you really there for me anyway? Why am I here? What am I doing?"
Photo credit: Jason Koerner/Getty Images for CGI Merchant Group.