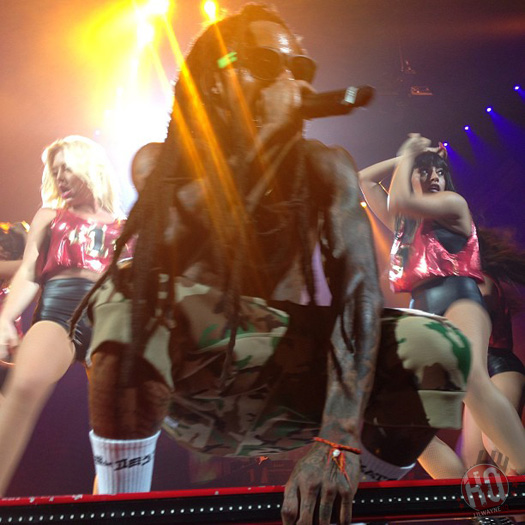 As it is #ThrowbackThursday today, here is a rare Lil Wayne interview with Playboy magazine that appeared in the "Dirty Dozen" section of one of their 2009 issues.
In their conversation, Weezy discussed everything from losing his virginity at the age of 11-years-old, bedroom skills, most memorable sexual experience, celebrity crush he wants to have sexual intercourse with, safe sex, having naughty fun on an airplane, and fivesomes.
Tunechi also talked about the most orgasms he's had in a 24-hour period, his favorite part of the female anatomy, if he has ever used drugs to enhance his experience in the bedroom, if he has recorded a song while having sex, and more. You can read Tune's full interview with Playboy below!
1. How old were you when you lost your virginity and what were the circumstances?
WAYNE: I was 11 and the girl was 13. She had every board game you could imagine. I liked board games. We was playing Win Lose or Draw and on the board she wrote, "F*ck me." Now I was 11, and I didn't even know it meant "intercourse." I just knew it was a cuss word, so I was like, "Why is she cussing herself out?" She said, "Do you want to play 'Press Your Luck'? Well, the game is in my closet." She had a walk-in closet, so she said, "Go get it, it's right to the right." When I walk to the closet she came in and cut the lights off and took off my pants, and I remember my ass was cold up against the wall. I was like, "What the hell!?" When I tried to push her off me, I felt that she was naked also, so I just stepped back and let her do what she do.

2. Are you good in bed?
WAYNE: I would say what makes me good in bed is that I am not aiming to be good. I am not expecting the chick to be like, "Oh, he was good." I aim to please and if you do that every single time, I think you're overall good, period. You don't have to try and ram it or let me beat it up.

3. What's the most memorable sexual experience you've ever had?
WAYNE: The most memorable was this unknown woman, because I never even asked for her name or number. I was getting off a plane and she was getting off from work and I looked at her and said, "You better stop playing with me." She was like, "I am not playing." She followed me into the men's bathroom and we had sex in the stall and that was kind of cool and we didn't get no numbers, no contacts. She went left; I went right when we got out the bathroom.

4. What celebrity would you most like to have sex with?
WAYNE: I'd probably love to have sex with… man, I think she's dead already. I'd probably want somebody like Marilyn Monroe -somebody that's been with the president or something. If I had Marilyn Monroe, I would do whatever she asks and whatever she's never had done to her. And I swear I'd do it good!

5. Ever had sex in an airplane?
WAYNE: It was in my plane, so I could do whatever I want. We could take off everything because the pilot's got the door closed. I've never had sex on a public plane but I've gotten a lot of head. I asked a stewardess how you could pull it off and she told me. You just gotta make sure you got the last two seats of the plane because stewardesses don't want to walk back there. You just fake like you're asleep and when they see that you're asleep they won't keep walking back there to check. Also people don't like to use the back bathroom. They like to use the one in the front, so that's how you do it.

6. Ever had a threesome?
WAYNE: I think the most I've done before is five. I don't do groupies. I am not the groupie type. I am 25 years of age right now, and the president and CEO of my own company. Dealing with a groupie was back when I was 15 years of age and when I dropped my first solo album. When I am doing five, it's usually two that's used to me and we've done this before. They know how to go out and get two or three more girls. They make the other girls' first time feel better-because that's a whole hump they gotta get over-because they ain't worried about you.

7. What's the most orgasms you've ever had in one 24-hour period?
WAYNE: Ooooh, sh*t I've been "locked up" with this one chick and when I say "locked up," I mean locked in a room and she made you go, man! So I probably done it like 10 or six times in 24 hours. That's one of those days you just stay in the room with the robe on and slippers, no boxers or nothing.

8. What's your favorite part of the female anatomy?
WAYNE: The eyes. The eyes are the window of the soul. You look into a woman's eyes-especially in that moment of having sex or making love-and you can see the truth. You can see if she liked it. That gives you more assurance than a scream, than her clutching you and scratching your back. You look into her eyes and see that she can't control the bliss that you're putting on her. I love that. That's better than a b*tch telling me she's coming!

9. Have you ever used drugs to enhance your sexual experience?
WAYNE: Umm, "some say the ex makes the sex spectacular…" That's my answer to that. When a woman says, "Can't we get something?" or "Gimme something to drink?" I say, "I don't want you to be high because tomorrow you're not gonna know that it felt that great. You kinda negated some of that by being intoxicated." So I always tell the woman I am the ultimate high. I am the drug.

10. Have you ever recorded a song while having sex?
WAYNE: I've gotten head before while I was doing it, but now that I can sing, I could really pull one off now. It was on a mix-tape or something and it was called "Your Baby Blue." My concentration was terrible. I never took so long on a song, boy! It was a lot of takes. Some of them was on purpose of course-I was messing up on purpose so she could stay down more!

11. Do you know how many women you have slept with in your life?
WAYNE: You know something real funny, I am not gonna tell you the answer to that. But I promise to God when I tell ya-I've never lost count. I will never tell anyone the count, but I never lost count and that's on my daddy's soul. I got it documented and it's my secret. It's just in my head. I remember it like music to me. I've been doing it to someday say that I've been with this many women and I have nothing, no disease.I just want to show that you can have that much sex and be able to protect yourself that damn much.

12. How cautious are you when it comes to having sex?
WAYNE: Let me tell you the trick to that. What you do is stop ramming them hoes and make love to that p*ssy! Make that p*ssy love you and that rubber ain't going nowhere. That rubber will be right there where you started off with if you make love to that p*ssy. That's when a n*gga f*ck up, when you trying to do too much. A n*gga like me, I am gonna make the p*ssy so wet that there's no such thing as popping or slipping off. Only problem I am gonna have is keep slipping it in.