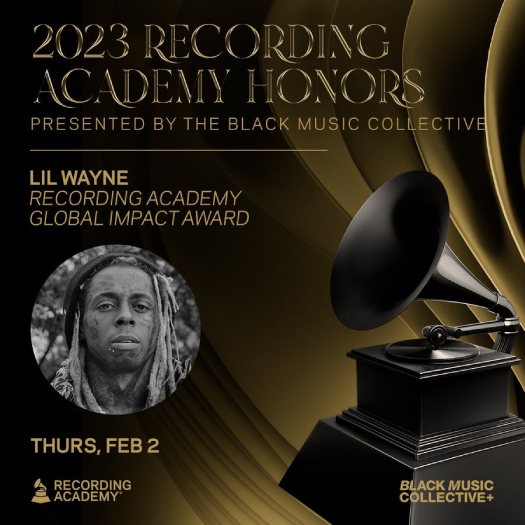 Lil Wayne is going to be honored at the Recording Academy Honors during GRAMMY 2023 Week on February 2nd, which will be presented by the Black Music Collective at the Hollywood Palladium in Los Angeles.
The second annual Black Music Collective event that is sponsored by Amazon Music and Google Pixel Phone will be taking place a few days before the 65th annual Grammy Awards, and they will also be celebrating other a few other honorees that include: Dr. Dre, Missy Elliott and Sylvia Rhone.
Weezy is set to receive a Recording Academy Global Impact award for his professional and personal accomplishments in the music industry to date. The CEO of the Recording Academy, Harvey Mason Jr., had the following to say:
"I am so thrilled to honor and celebrate these four giants in the music industry. Last year's inaugural event was such a highlight during GRAMMY Week and now with Dre, Missy, Wayne and Sylvia there to pay tribute to this year, it's definitely going to be another night to remember. I continue to be proud of the work of our Black Music Collective as it's a vital part of what we do here at the Academy."
I think a big congratulations to Tunechi is in order!
Lil Wayne has left a lasting impact on the culture as a five-time GRAMMY Award-winning, multiplatinum rap icon, Young Money Entertainment founder and CEO, Young Money APAA Sports founder, acclaimed author, pro skater, and philanthropist. By 2020, he cemented his legacy forever as "one of the best-selling artists of all time," tallying sales in excess of 100 million records worldwide with 25 million albums and 90 million digital tracks sold in the United States alone. In 2022, Wayne earned his first diamond certification from the RIAA with his generational smash hit "Lollipop" featuring Static Major. Among many milestones, he emerged as "the first male artist to surpass Elvis Presley with the most entries on the Billboard Hot 100," logging a staggering 183 entries – the third most of all time. Simultaneously, Wayne owns and operates Young Money Entertainment, the company that ignited the careers of Drake, Nicki Minaj, Tyga, and many more. The committed philanthropist founded the One Family Foundation, with the mission of giving power to the youth by providing them with opportunities to practice their talents and skills and inspiring them to dream beyond their circumstances.