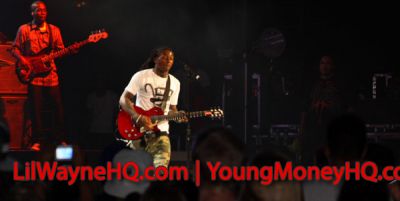 MC says he'll release rock/hip-hop LP once his Young Money label is in order.
Lil Wayne is in no rush to put out his Rebirth LP. The record's release has been pushed back repeatedly, and no concrete date has been announced. Weezy says he's been working on the LP, but he's also been concentrating on getting his record company in order.
"Honestly, I'm just starting up this Young Money label and I'm trying to get my artists down right. Get everybody together," Weezy told MTV News. "Once I got that together, then I could work back on me. I'm a very humble person. I know once I get to it, I'mma get to it. So like I was saying, it's Young Money time, so making sure my artists get their just due."
On Monday night, Wayne kicked off his latest tour, Young Money Presents: The America's Most Wanted Music Festival. In addition to introducing his artists — from Drake to Nicki Minaj — throughout the show, Wayne carved out his own time with the audience. Weezy went from hip-hop to rock to pop during his set. He says the versatility of the music is indicative of what he's offering on Rebirth.
"The Rebirth album is just me expressing myself without any boundaries. Without any margins, without any guidelines," he said. "I'm trying to do something different. I told my record company, 'Don't tell me nothing about what I say. Don't tell me nothing about what you hear. Just get behind me.' That's what Rebirth is."
Wayne is on tour with the entire Young Money crew — as well as Young Jeezy, Soulja Boy Tell'em, Jeremih and Pleasure P — until September.
Shout outs to MTV and we all know Rebirth will a great album, but he did say it was done the other week 😮