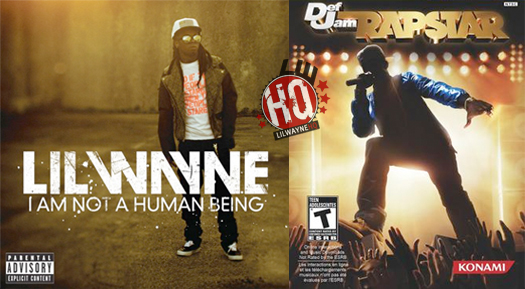 Everyone knows CD sales are down. The solution? Bundle it with a video game. That seems to be the trend these days, the latest example of it coming from Lil Wayne.

The rapper — who on November 4 will complete an eight-month jail term for a weapons conviction — has partnered with the makers of "Def Jam Rapstar" and Best Buy to give away his latest album, "I Am Not a Human Being," to anyone buying the game.

There are limitations: The giveaway lasts from October 12 through October 19, and only in Best Buy locations.

The deal was struck between Rapstar creators Def Jam and 4mm Games, and Wayne's label Cash Money Records. Wayne's single "A Milli" is also featured in the game, which is a rap-centric karaoke game that lets users record and share video of themselves performing. – Yahoo
So basically if you buy the Def Jam Rapstar game, you will get Wayne's I Am Not A Human Being album for free with it. This offer is only available in Best Buy stores from October 12 to October 19.
Also, don't forget to buy your hardcopy version of Weezy's I Am Not A Human Being album (includes three bonus tracks) which came out in stores today!