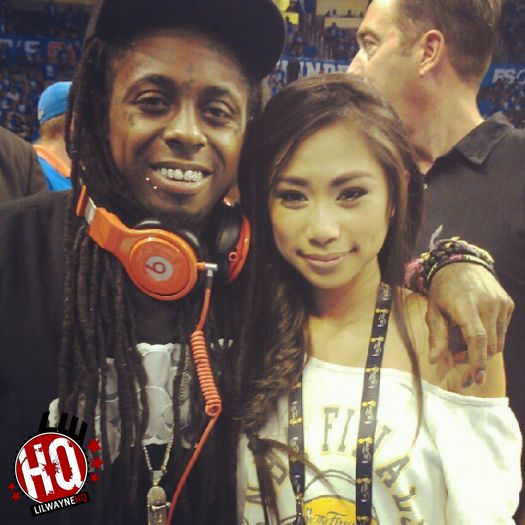 French Montana's "Pop That" single featuring Lil Wayne and others has entered the Billboard R&B/Hip-Hop Songs chart at #57, which makes this Weezy's 100th entry on the chart. This is a big achievement for Tunechi as he is only the third music artist and second rapper to hit the 100th mark! He has 31 solo tracks and has been featured on 69 records that have appeared on Billboard's chart to bring his total to 100.
In other Wayne news, he will be featured on T.I.'s upcoming single called "Ball" that will premiere any day now. The song, which was produced by Rico Love and Early & E, will supposedly be a "club-banger".
Lil Wayne, the ubiquitous rapper and founder of Young Money Entertainment, earns his 100th entry on Billboard's R&B/Hip-Hop Songs chart. By joining Rick Ross and Drake as featured artists on French Montana's "Pop That," the track arrives as the chart's top debut at No. 57.

Weezy is just the third artist and second rapper to achieve the astronomical feat dating to the first incarnation of Billboard's R&B chart (the "Harlem Hit Parade") in 1942. Jay-Z leads all rappers with 108 chart titles. Among all artists, the pair trails only James Brown, who's banked 111 entries between 1956 and 1993.

Of his 100 charted titles, Lil Wayne has been the lead act on 31 and been featured on 69. (Jay-Z has led on 69 of his 108 hits and been featured on 39.)

New Orleans-born Lil Wayne's R&B/Hip-Hop Songs history spans 13 years and one month. The week of May 31, 1999, a then-16-year-old Dwayne Carter made his first appearance on Juvenile's "Back That Thang Up," also featuring Mannie Fresh. The song went on to peak at No. 5, becoming Lil Wayne's first of 29 top 10s. He's tied with Ludacris for the most top 10s in the chart's archives among rappers.

Jay-Z took slightly longer to make his 100th R&B/Hip-Hop Songs visit: 14 years, 10 months and one week between 1996 and 2011.

Of his 100 charted songs, Lil Wayne has sent eight to No. 1. Among rappers, only Weezy's protégé Drake and Jay-Z, each with nine, have more.

On the Billboard Hot 100, which, since its 1958 launch, has ranked songs' weekly popularity among all genres, Lil Wayne boasts the third-most entries (102). The cast of Fox's "Glee" leads with 203 titles, followed by Elvis Presley (108) – Billboard

Rico Love speaks on T.I. and Lil Wayne's "Ball" collaboration and how Wayne got on the record.