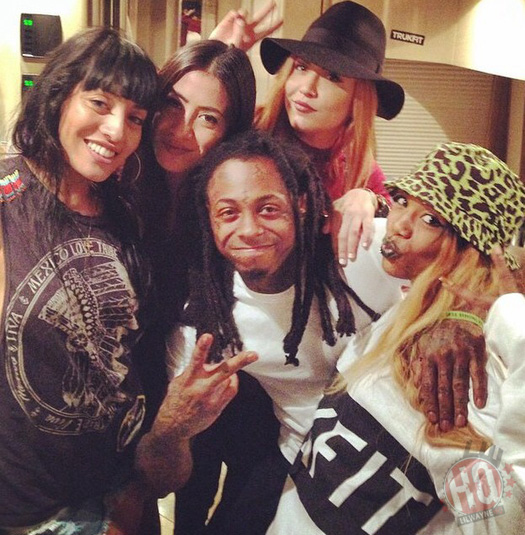 Over the weekend, Lil B took part in a lecture at the Massachusetts Institute of Technology university in Cambridge. When it was Q&A time, one of the students in attendance asked B who he had a close connection with in the music industry.
Lil B answered Lil Wayne, Mack Maine, and Diddy before telling a story of how at one point in his career he was hanging around and chilling with Wayne years after he had put Weezy on the cover of one of his projects back in 6th grade.
If I were to guess, I would say this time was around when Tunechi was recording his Sorry 4 The Wait mixtape. If you don't recall, Lil B was featured on "Grove St. Party" off that tape. You can read exactly what B said about Tune below!
[What's Lil B's most significant connection with another artist?] The number one, I want to give a big shout out to Mack Maine, and to Lil Wayne. Mack Maine, I definitely give him a shout out because he was a big pivotal part of bringing me and Lil wayne together. Being in the studio with Lil Wayne and being around him for the time that I was going to dinner and stuff like that. Just being embraced by him. To hug Lil Wayne. In 6th grade, I had a project, an iSearch project, this was middle school, and I put Lil Wayne on the cover. So to work so hard to be independent, to have no corporate backing, you know, working with Wayne and going back to moms house. I worked with then went back to the hood, went back to moms house, you know what im saying, that's love that shows that you can be yourself. You can be yourself and have respect. Hold what you seeing in your mind. You don't have to share it. You don't have to take pcitures of it. This was something that was in my heart and my soul, that I kept. Multiple artists. Being embraced by Puff Daddy, you know, Diddy. I appreciate Diddy for that. He definitely embraced me, but he didn't get on no song with me. Wayne did though, shout out to Wayne for really keeping it real. Big shout out to Puff. But you know, the industry is funny. They're a bunch of followers. They follow the trends. a bunch of the rappers, they're not really pushing music and art, like what I'm doing.
Via The FADER