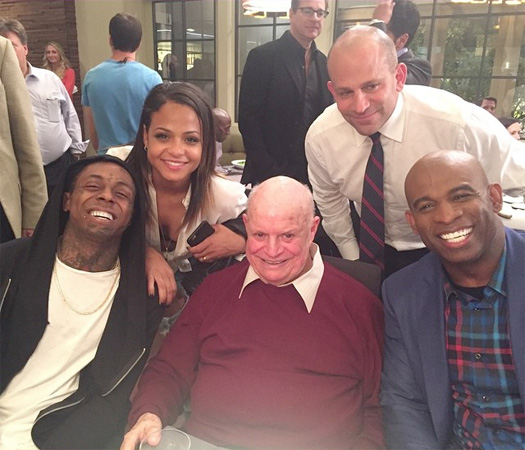 Earlier this month, we found out that Christina Milian was casted as a lead in the pilot episode for FOX's forthcoming comedy TV show called "Grandpa", which will also star John Stamos and Josh Peck.
Now it seems that Lil Wayne will be adding more to his filmography by making an appearance in the pilot episode too after Tina Turn Up confirmed the news on her Instagram page with the photo above and the caption below.
"Look who made a cute cameo on my pilot for #TheGWord aka #Grandpa fun times! Life is all about trying new things. #blessed to share the fun! #tunechi #dionsanders #donrickles #tnt Safe to say you've never seen this group of men in one picture together @fox"
Also after the scenes were shot, Christina and Weezy were spotted holding hands while leaving the set earlier in the week to put more speculation on their relationship!