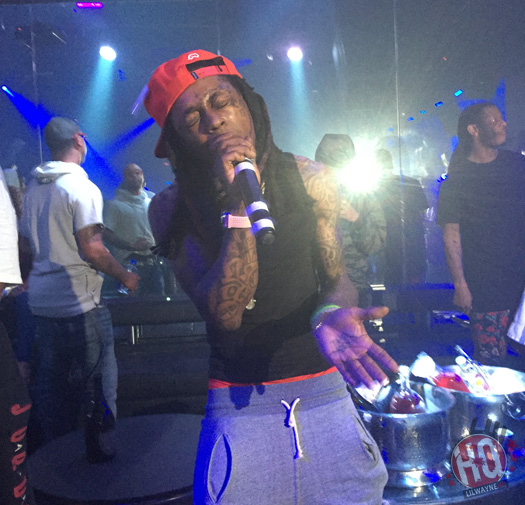 During his appearance at Freelon's Bar & Groove in Jackson, Mississippi on April 9th, Lil Wayne got on the mic and sent some shots to Young Thug, who will be releasing his Carter Six project next Friday and has already released the artwork that shows him naked on the cover, as well as Birdman's Rich Gang brand.
"I want y'all to understand that there's only one motherfucking Carter, ya digg."

"I want y'all do me a favor, if y'all ever have Rich Gang or whoever it is in this motherfucker, y'all let 'em know I said fuck 'em!"

"I want y'all to do me a favor and stop listening to songs of niggas that pose naked on their motherfucking album cover."
Weezy also performed "Coco", "Fingers Hurting", "Sh!t", "Steady Mobbin'", and announced that his Free Weezy Album will be free and is still coming soon. You can check out some front row footage of all of this below, courtesy of LilWayneHQ.com reader Dexter Mills!
Since this nightclub show, Thugger has responded to Tunechi's disses on his Instagram page by saying he does not want any beef with Tune, because he is his idol.