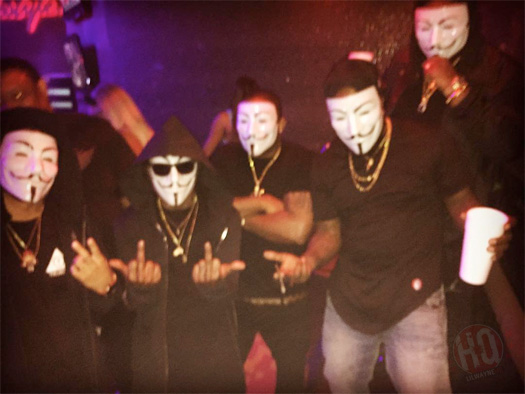 On October 30th, Lil Wayne hit up IVY Nightclub in Miami, Florida to celebrate Halloween, as well as to premiere his "Back To Back" and "Where Ya At" freestyles that will be appearing on the upcoming No Ceilings 2 mixtape.
Weezy and his homies Hood, T@, Mack Maine, Troy J, Stephanie Acevedo, and Evan Hernandez all rocked a Guy Fawkes mask. If you are not familiar with "the Guy Fawkes mask", then you may know the face from the "V For Vendetta" film, or even the symbol for the online hacktivist group Anonymous!
You can view some more photos of Tunechi at the nightclub after the jump below. If you or someone you know dressed up as Tune for Halloween last night, don't forget to send me a pic and I'll feature it on LilWayneHQ.com!