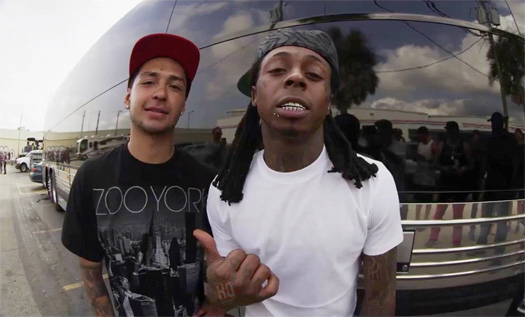 Professional skateboarder Chaz Ortiz recently chopped it up with Rolling Stone for an interview and during their conversation, he spoke a little bit about Lil Wayne.
Chaz confirmed that he has both skated with Tunechi and watched him record in the studio, as well as spoke on how Tune receives a lot of hate for skating, reading a bunch of skating magazines in the back of his Bentley, and more.
You can read everything what Chaz Ortiz said about Wayne after the jump below. If you recall back to 2013, Ortiz also let Weezy tattoo his body!
I know you're friends with Lil Wayne, do you discuss tricks with him?
Yeah, he's my boy. I've been down to the studio to see him record. And when he was in Los Angeles, we skated a lot together. It's sick. But I love how people hate on him for skateboarding, when in actuality, he's way more passionate about skating than they are. I've seen that fool skate. He will try a trick for hours, nonstop, until he gets it.

Weezy attends a lot of skate contests, skates at The Berrics and even has his own private skate park in Miami. He's committed.
It's sick. He genuinely loves skateboarding. And he knows a ton about skating and all of the riders. He's a skateboarding trivia master. I was in the back of his Bentley and he had all these skate magazines in the backseat. That's how you know he loves skating – all these skate mags in the back of his nice-ass car. He was sitting there, telling me about Ben Raybourn's most recent part. He knows his shit. He's not faking the funk.