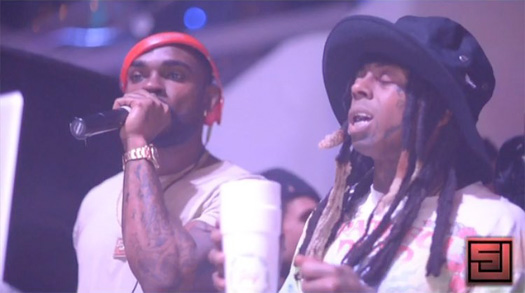 Lil Wayne hit up LIV nightclub in Miami, Florida on the first Sunday of 2016 (January 3rd) for his usual "LIV on Sunday's" appearance.
Also joining Weezy at the nightclub on the evening was: Birdman, 2 Chainz, Jadakiss, Fabolous, Ace Hood, and others. You can watch some footage from the event after the jump below.
In the clips, we can see Tune performing "Duffle Bag Boy" and "Watch Out" with Chainz, "Steady Mobbin'", "A Milli", "Hustle Hard (Remix)" and "Carried Away" with Ace, helping Jada perform "We Gonna Make It" and Fab perform "Milly Rock (Freestyle)", as well as jamming out to "I'm A D-Boy" off Tha Carter II!
Please enable Javascript to watch this video
Credit: Eric The Jeweler, Estefania Pierre-Paul, JiRon Watkins, LaPerla Bradshaw, Laura Lifshitz, and Trump Turner.