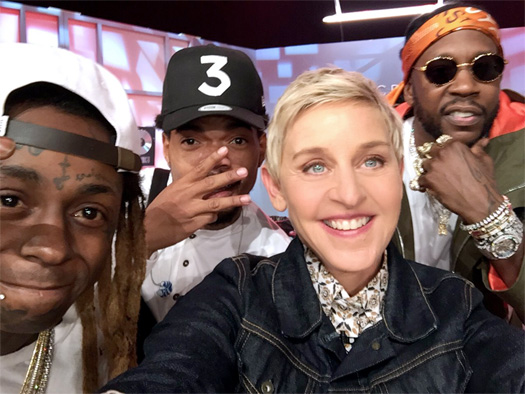 After performing "No Problem" live on "The Ellen DeGeneres Show" a few days ago, Chance The Rapper took to his Twitter page to thank Lil Wayne for helping him with the performance.
@LilTunechi I can't say it enough, you my biggest inspiration, everyone's biggest inspiration, WE 'BOUT TO FUCK THE WORLD UP WITH THIS NEW-NEW. You BEEN in this shit and we 'bout to show every young creative out there how it look wit' the reigns in our own hands.
As you can see, Chance says Weezy is his "biggest inspiration" and hints that they have new music on the way! Who would like to hear another Lil Chano and Tune collaboration?
@LilTunechi I can't say it enough you my biggest inspiration everyone's biggest inspiration WE BOUT TO FUCK THE WORLD UP WITH THIS NEW NEW

— Lil Chano From 79th (@chancetherapper) September 15, 2016
You BEEN in this shit and we bout to show every young creative out there how it look wit the reigns in our own hands https://t.co/JlWIzhzSZm

— Lil Chano From 79th (@chancetherapper) September 15, 2016