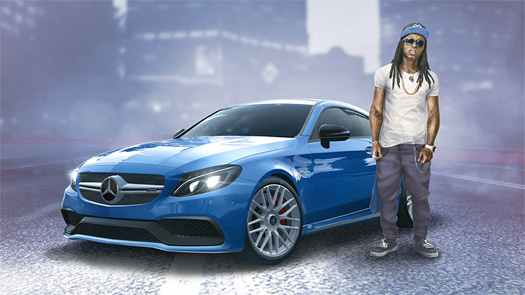 Artist Sahan Gamage recently participated in an interview with EA about his work on Lil Wayne, Gudda Gudda and HoodyBaby in the "Need For Speed: No Limits" mobile game.
Sahan spoke on the research put into creating Weezy's character, how he catches his unique personalities, the most challenging part of creating him, how long it took to do, and more.
You can read the full interview after the jump below! Have you downloaded the "Need For Speed: No Limits" app yet? If so, how do you like it?
What inspired you to get into creative services?
From a young age I was really interested in illustration and cartoons, and as I grew up I gravitated towards the creative industry. I studied Graphic Design and then 3D Animation. Being in creative services I was given the opportunity to explore almost everything I've learnt and loved: from layout design, to illustration, and even some animation.

Who are the three new characters in the latest NFSNL update?
In the new update, players get to roll with legendary hip-hop artist Lil Wayne, along with his crew Gudda Gudda and HoodyBaby.

What research is involved in achieving a realistic character portrayal?
Gathering reference material is essential. We were provided photos from the recording artist's management team. From there we also gathered our own reference material. This allowed us to composite a full figure of the character that met the in-game art requirements, and matched with the existing game characters.

How do you capture the character's unique personalities?
Usually this is strongly directed through the research phase. Getting an understanding of who they are, and how they portray themselves as hip-hop artists helped to define each character. Lil Wayne has a strong visual connection through his clothing, tattoos, and even his facial expressions. Those were elements that were quite important to consider when trying to capture his personality.

Walk us through the end to end process of creating a character.
First we gathered reference images and then composited a rough full body pose to block out how they would look against existing game characters. From there, a rough sketch of the character's main forms are done in grayscale to make sure the tonal range is heading in the right direction.

With this game update, a brand new marketing art direction took place, along with a completely different colour scheme. The next step involved testing the characters by introducing them into the new marketing key art and the new updated colour palette, and then making adjustments accordingly.

From there, the painting was refined with details and rough textures. Eventually I handed the grayscale image over to the NFSNL game team artists who polished and painted colour passes to match in-game palettes and art.

What is your preferred method for digital painting?
I personally use Adobe Photoshop for digital painting. In regards to the Lil Wayne art, the brushes used were mostly standard, round, or square hard edged brushes, along with a few textured brushes to bring out detail in his clothing and skin.

What was the most challenging part of creating Lil Wayne?
Matching the character art to cohesively work with the new marketing art direction that took place this update was probably the most challenging. Mostly because it was new for both the marketing team and the game team. However, along with the game team artists, and another creative services artist it was made possible.

Also, with Lil Wayne being a long standing hip-hop artist, finding recent reference material that was relevant to his personality, music and even tattoos was important to keep in mind when this was being done.

Who else was involved in creating the finished in-game product?
Artists Nathan Barnes and Natasha Hirt from the NFSNL team polished and painted the colour pass for Lil Wayne and Gudda Gudda. Natasha Hirt also painted HoodyBaby's character from start to finish. Artist Belinda Cheng was involved in creating the official marketing art for the Lil Wayne update.

From concept to completion, how long did it take to create the final NFSNL characters?
The characters took about two weeks to complete, but the whole process of creating the new update look took about a month.