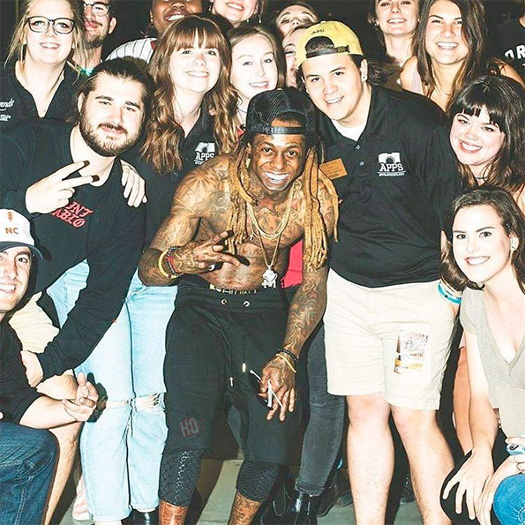 Wow! Out of nowhere, a new Lil Wayne song has surfaced online called "Dinnertime" that was produced by Onhel.
However, the track was recorded back at the end of 2007 for Tha Carter III, but for an unknown reason it never made the album and has never been put out since.
We've actually been knowing about this record for a long time after it was first brought up in Weezy's Blender magazine cover story in 2008. This is what was said:
"He [Lil Wayne] instructs his engineer, Darius 'Deezle' Harrison, to fire up a new song; as soon as he hears his own music, Wayne grows wild, his slow-mo confidence shoved abruptly aside by a raging, theatrical egotism. The track is called 'Dinnertime', in which Wayne compares other rappers to food and then eats them, chewing noises included. Faced with his prodigious skills, he stutter-steps around the room, headbanging with increasing violence. 'I'm too sick' he says, revving himself up. 'Too sick! I don't even wanna listen to my own shit, because it makes me want to kill somebody!' The moment the song ends, Wayne bellows at no one in particular: 'Fuck yo' favorite rapper!' He tells Deezle to dial up another track and reiterates his point, stomping his Nikes to emphasize each syllable: 'FUCK! YO'! FAV! OR! ITE! RAP! PER!'"
You can listen to "Dinnertime" after the jump below!
Shouts to TuneAintNoTrick