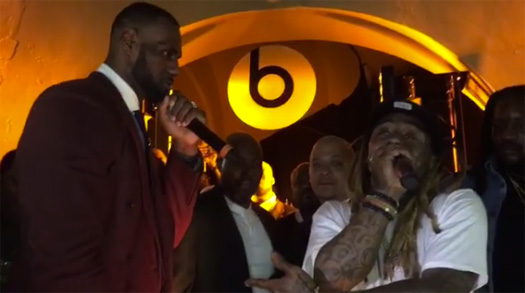 Not long after Lil Wayne released his Tha Carter V album, LeBron James took to social media to film himself jamming out to his favorite song off the project – "Mona Lisa" featuring Kendrick Lamar.
"Wowzers!!!!!! 'Mona Lisa' Lil Wayne & Kendrick Lamar absolutely murdered this track! #ThaCarterV"
In related news, a reporter asked the NBA player what does it mean to have Weezy back in the hip-hop game with his C5 album to which he rightly responded with:
"Where did he go? He didn't go anywhere. Wayne's been making music how long? Since '96?!"
You can check out clips of these two things after the jump below. Shout out to Bron for putting that reporter in his place!
Reporter: "What's it mean to have Lil Wayne back in the game [with the Carter V]?"
Lakers' LeBron James: "Where did he go? He didn't go anywhere. Wayne's been making music how long? Since '96." pic.twitter.com/rdFQ8oDhyN

— Ben Golliver (@BenGolliver) September 28, 2018