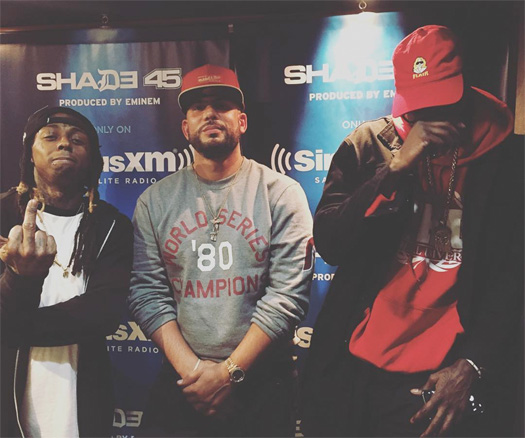 DJ Drama recently narrowed down his top 10 Gangsta Grillz projects from his 150 plus discography to XXL over Zoom.
Coming in at the No. 1 spot was Lil Wayne's iconic Dedication 2 mixtape from 2006, which beat out Jeezy's Trap Or Die, Gucci Mane's The Movie, Meek Mill's Dreamchasers 2, T.I.'s Down With The King, Chris Brown's In My Zone, and many more.
You can read why Drama chose D2 as his #1 choice, recall bringing Tunechi the "Cannon" beat and name his favorite songs from the tape below, as well as reveal how the Dedication mixtape series first came about from being on tour with T.I. who one night had Tune on the phone!
"I feel like Dedication 2 is like the perfect mixtape or the perfect Gangsta Grillz mixtape. I just feel like the tape has every element of a perfect mixtape in the sense of where Wayne was with his composure to where I was for putting the tapes together to the art of it to the production of it to the style; it just encompasses everything.

I was on tour with T.I. at the time. We was on a tour bus and T.I.P. was on the phone with Wayne. And I was like, 'Yo, you talking to Wayne? Let me holla at him.' He passed him the phone and I was like, 'Yo, what's up, man. We due.' He was like, 'For sure." At the time, he was working, he had his Sqad Up tapes. And I used to take records off the Sqad Up tapes and put them on Gangsta Grillz, the earlier ones. And he was like, 'Yeah, let's get busy.' So, I remember after I came off tour, I met Tez [Cortez Bryant, Lil Wayne's manager at the time] and Wayne, they were at Stankonia [Recording Studios]. I had just brought a bunch of beats over there and we were busting it out and working.

I came up with the concept Dedication, the name. I did the first Dedication right after Trap Or Die. And I remember thinking to myself like, Yo, how am I ever going to top Trap Or Die? It's impossible. And then I came out with Dedication. So, by the time we did the second one, it was after [Hurricane] Katrina, and Dedication took on a whole other meaning in a sense from watching what happened to Katrina and even the 'Georgia Bush' record from his perspective. Even with that tape, I had like a hidden record on there with him spitting on 'Ambitionz Az A Ridah,' which is like a secret song. I just was on some shit. And with the artwork for the second one, it's a masterpiece.

[DJ] Khaled was shooting his video for 'Holla At Me' in Miami, so he flew everybody in for the video at the time. So, I was in Miami for Khaled's video, and Wayne was finishing up Dedication at The Hit Factory. And I went over there to get the music from him and I had took this beat I was like, 'Yo, see if you fuck with this.' And it was the 'Cannon' beat. And at the time it was a Busta Rhymes song. Busta Rhymes originally had the beat. I took Wayne the instrumental and the next day he sent me back his verse for that, which is like, a fucking timeless classic. And that was literally probably one the last records that he recorded for D2. [My favorites on there are] 'Cannon,' 'Georgia Bush', 'Dedication 2.'"
If you had to, which of the Lil Wayne #Dedication mixtape covers would you get tattooed on your own body?! ??https://t.co/UOInTW0Jm8 pic.twitter.com/Fs95AJyX7Z

— Lil Wayne HQ (@lilwaynehq_2) August 7, 2021