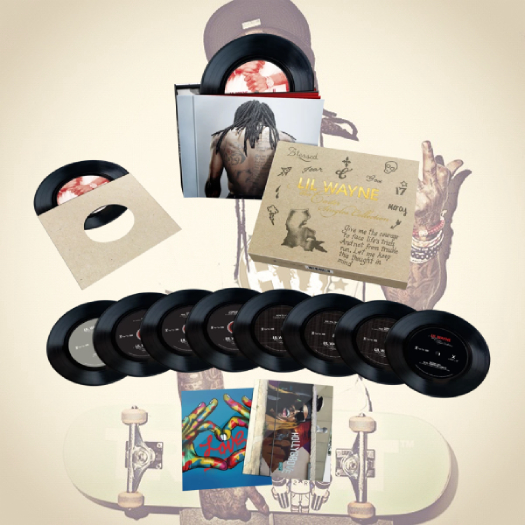 We now know why Lil Wayne randomly released an old single called "Ya Dig" this past week! It was promotion for his upcoming Tha Carter Collection box set.
Tunechi is getting ready to release a 7″ vinyl boxed set, which will feature 19 of his biggest hits from his Tha Carter album series plus Tha Carter III era record, "Ya Dig".
The box set that has been designed from Weezy's tattoos will also include a booklet of rare photographs, lithography, and more new art. It will ship next month around November 12th. Click here to pre-order Tha Carter Collection for $200.00!
Tracklist:
1A. Go DJ (Single Edit)
1B. Bring It Back (Single Edit)
2A. Shine (Single Edit)
2B. Fireman (Single Edit)
3A. Hustler Musik (Single Edit)
3B. Shooter (Single Edit)
4A. A Milli
4B. Got Money
5A. Lollipop (Single Edit)
5B. Mrs. Officer (Single Edit)
6A. Comfortable (Singe Edit)
6B. 6 Foot 7 Foot
7A. How To Love
7B. John (Single Edit)
8A. She Will (Single Edit)
8B. It's Good
9A. Mirror
9B. Uproar
10A. Mona Lisa (Single Edit)
10B. Ya Dig