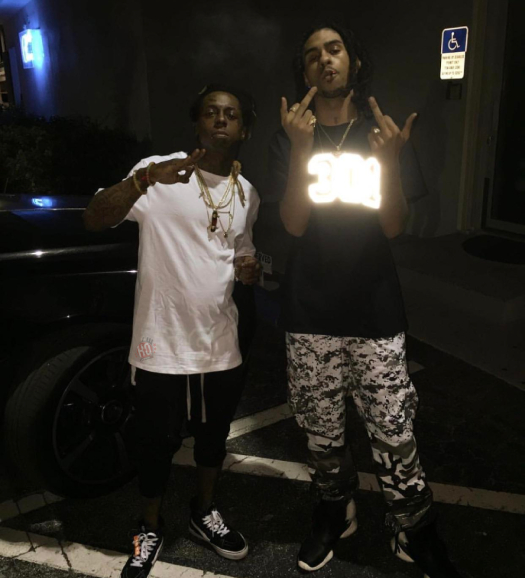 Robb Bank$ recently sat down for an interview with DROPS MEDIA while backstage of his augmented reality performance for the live music app Encore, which you can watch in the clip below.
During their conversation, Robb discussed what it was like to meet one of his idols Lil Wayne at the Super Bowl LII back in 2018 and how he reacted after it.
"I done met a lot of my idols and them n*ggas f*ck-n*ggas, this straight like that. A lot of these n*ggas, man, you let me down meeting you. You feel me? Not Wayne though. My biggest, my favorite Wayne story that I have, I was in the club. I'm walking through the club in Minnesota actually. On what was it? Like the Super Bowl weekend? Or like All-Star Weekend. You don't remember when they threw the buckets of ice on 6ix9ine in Minnesota? I performed at that same show. Yeah, that time! Wayne was there. So I'm walking past and then I hear: 'Yo Rob,' and I look back and it's Wayne. When I say I walked through afterward, after he said that, I start pushing n*ggas like: 'Fuck out my way n*gga, Lil Wayne just said wassup to me. Leave me alone n*gga. Don't talk to me.' That's like my favorite Wayne story."
The New York City native also recalled another story involving Wayne. This time it was when he was at The Hit Factory Criteria Recording Studios in Miami recording music with Birdman and finding out Weezy really does live inside the studio as his room was next to their room!
"I got there [Hit Factory Studios] at six o'clock in the PM and I left at three the next day. I did that for a week, but that's when I was at Hit Factory with Bird [Birdman], shout out Bird, and I'm recording. I'm recording at the… my room is right here and Wayne's room next to there. So I'm like: 'I ain't leaving until he leaves.' But then I found out this n*gga really live in the studio. Like he actually still sleep there. So that was dumb for me. I ain't gonna lie, but I felt like that. Like: 'N*gga you my idol, I gotta beat you.' Like, I gotta beat you. You know what I'm saying? Like you know, the student beat the sensei, that type shit."