Lil Wayne's upcoming rock album, Rebirth which was meant to be dropping in eleven days has been pushed back to February 2010. You can see Birdman's tweet above were he says the album is coming February 1st, but Cortez Bryant (Lil Wayne's manager) told us (LilWayneHQ.com) that the album is dropping February 2nd.
I thought that this pushback might have something to do with Weezy going to prison in February, but Cortez told us it's because they want to get the single out. The official statement will be coming tonight, and We Are Young Money is still dropping December 21st.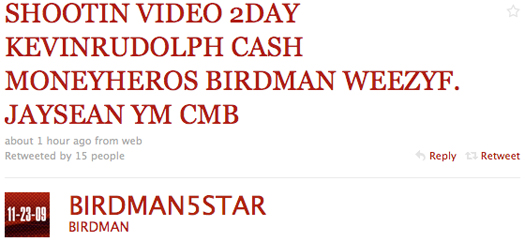 The good news is that Kevin Rudolf is shooting a music video for his song "Cash Money Hero's" all today with Lil Wayne, Birdman, and Jay Sean. You can see a picture from the set here.
Here is a Young Money song titled "Where's Wayne" which will not be on their album dropping December 21. On this track is Lil Chuckee, Nicki Minaj, Jae Millz, Gudda Gudda, and Lil Twist and every single one of them kill it. You can listen and download it here!