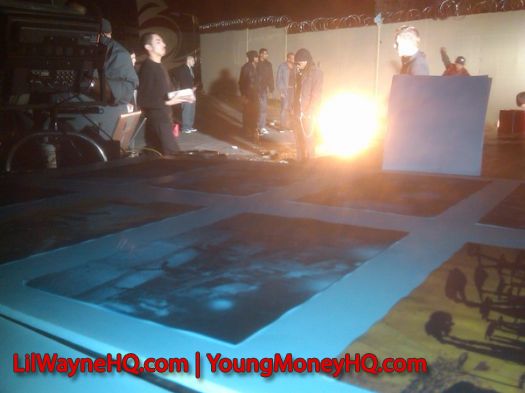 Director David Rousseau told MTV News that the Cash Money superstar recorded up to nine videos in one weekend, though most were in front of a green screen so his image could be added later to the finished clips. One video the rapper was on the set for, however, was his upcoming clip with Eminem for "Drop the World".
The collaboration between the two esteemed MCs is the next single from Wayne's Rebirth album. The pair performed a snippet of the track at last month's Grammy Awards.
Chris Robinson directed the "Drop the World" video and told MTV News on Tuesday (February 23) that the shoot — featuring the two heavyweight MCs — was comparable to a movie set.
"As a director, it's how do you, more than anything, combine these two artists together and create something that's special," he explained. "Because when you have two artists together, it's like, 'Oh, they'll stand next to each other [and that's it].' It's very awkward sometimes to have two very big stars. How are you gonna cover that? Especially two artists that are so big. You can do that with a performance at the Grammys, because the spectacle is to watch them onstage and sit in the audience and look at it. But as an artistic piece to have some magic, or if it's a mood piece or whatever way you communicate the music, you have to take two people into consideration with how you do that. And for me, I almost take it like a feature film: How did Scorsese put Jack Nicholson and Leonardo DiCaprio in the same movie?"
The clip was filmed on the eve of the Grammys, Robinson said. It was a one-day shoot, and Wayne was on the set for upward of 14 hours. As of press time, no details regarding the premiere are available.
The "Drop the World" video is still being edited, Robinson said. It's likely the director will complete the final clip by the top of next week.
Robinson wouldn't reveal the premise of the video, but he promised the clip would match the song's intensity.
"You got two guys who are basically huge supernovas coming together, and the way that the song is constructed is great," he said. "Because unless you see it coming, you don't know Eminem is on the track. The first two hooks and the first two verses are all Wayne, and it's kind of a surprise when Eminem comes through, and we matched it visually how Eminem enters the piece. From the concept and to just hearing the lyrics, with both of these amazing lyricists killing it, the whole video is just energy."
Via MTV, and I'm really looking forward to watching this music video, because it was easily one of the best songs on the Rebirth album!
In other news, it looks like The Empire is actually going to go through with releasing The Drought Is Over 7, and Justin Bieber wants to work with Weezy F Baby once he comes out of jail:
After collaborating with rapper Ludacris and joining forces with reggae fusion singer/MC Sean Kingston, Justin Bieber is now longing to make a duet with Lil Wayne. "I want to work with Lil Wayne…once he gets out of jail," he told E! News during an event at Northview High School in Covina, California.

There is chance that Justin's duet wish could come true as Weezy himself has given a shoutout to the young Canadian pop sensation during a Ustream session on Young Money's artist Lil Twist's site. The rap mogul apparently has recognized that Justin fever already swept the country and he could be the next big thing in music industry.
Props YoungFire, and what do y'all think about a Justin Bieber and Lil Wayne future collaboration? Also, check out one of The Empire's recent tweets below:
dio 7 is coming out I just need some time yall on me damn lol
So it looks like the mixtape is coming, but we don't know when and we don't have a tracklist.