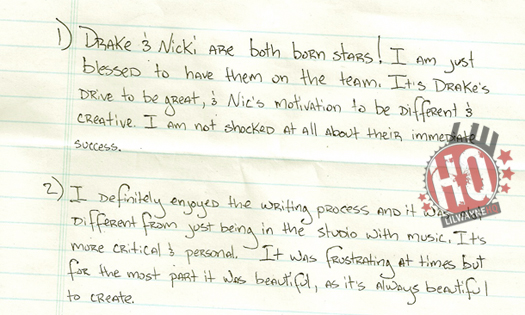 Click on picture to view full size!
Lil Wayne recently wrote a letter to The Juice from the pen answering 13 questions they sent to him (so it's kind of an interview). Weezy talks about Nicki Minaj and Drake becoming superstars, his new writing process, maybe dropping a new mixtape when released, jail visits, the important things he has learned throughout this experience, fanmail, T.I. going back to jail, the first 5 things he wants to do when released, and more.
The Juice: Since you've been at Riker's, Drake and Nicki Minaj have not only broken out as rap artists, they've become bona fide superstars. What about the two, in your opinion, has pushed them along to become such forces to be reckoned with? Was there anything about their rise that shocked you?

Lil Wayne: Young Money artists Drake and Nicki Minaj are both born stars! I am just blessed to have them on the team. It's Drake's drive to be great and Nick's motivation to be different and creative. I am not shocked at all about their immediate success.

You've been one of the most prolific artists alive over the past five years – constantly recording songs, making guests spots and releasing mixtapes. But most of that came to a halt with the prison sentence. Did you enjoy just writing and no recording in the studio? And did that change your process at all? Has any of it been frustrating? Or have you enjoyed the break?

I definitely enjoyed the writing process and it was a lot different from just being in the studio with music. It's more critical and personal. It was frustrating at times but for the most part it was beautiful, as it's always beautiful to create.

When you're released, where will your focus be musically? Do you plan on immediately releasing some music? Or will you be fine-tuning "Tha Carter IV"?

When I'm released, I'll be giving my musical attention to "The Carter IV" and promoting "I Am Not A Human being." I may drop a mixtape! You know me!

What's the one thing that occurred this year that you've regretted the most? What did you miss most while you were incarcerated?

No regrets. I missed my wonderful kids the most!!

Which artists/friends have been the most supportive while you've been incarcerated? Have there been a lot of visits? Which have been the most surprising/unexpected? Which made you the happiest?

All artists and friends were very supportive. Thank God I've gotten two visits a week since the day I walked in. I'd have to say the visit from Diddy was most surprising because there's a lot that you're required to go through and to think he did just to see me is more than cool. But again, everybody has been more than supportive. I never felt alone.

What kind of facilities were you allowed to use while locked up? For example, how often were you allowed on a computer to update twitter? Call people? Etc.?

I used the phone everyday, but no computer at all. I just have to thank Karen Civil for keeping my site so great!


Click on picture to view full size!

What's the most important thing you've learned throughout this experience? What has been the most positive thing out of the whole ordeal?

I've learned about my strength and inner peace. I've shown myself how patient I can be. The most important or positive thing I've gotten out of this is the ability to be so humble.

We've heard you on the various phone interviews you've done since being in jail, and you sound very refreshed. What are you most nervous about acclimating to once you are released? Do you plan on continuing this clean streak?

I'm not nervous about anything and I have no choice but to continue this clean streak.

You spent a lot of time reading and answering fan mail while you've been in jail. What did you learn about your fans from that? Are there any letters that particularly stand out to you and/or helped you the most? Will you stay active with reading fan mail once you're released?

I've learned a lot from my fans, mostly about my impact on others' lives. There are many letters that helped me in many ways. And I do plan on reading more fan mail after my release.

You recently said Eric Benet's "Sometimes I Cry" song is one of your favorites tunes to listen to in jail. What other songs are you listening to these days?

I only listened to the slow jams station, so whatever they played, I jammed to.

Since your incarnation, T.I. has gotten arrested and will serve time again. What are your thoughts on his situation, and do you think the jail system actually serves to rehabilitates people?

No comment.

What's your next tattoo? Will you memorialize your time in jail with some sort of ink?

Not sure.

What details can you give us about your welcome home concert? Also, what are the first five things you want to do when you are released other than perform?

Not sure about the concert yet. And the first five things I will do is kiss Reginae, kiss little Dwayne, kiss Neal, kiss Kameron and kiss my wonderful mother Cita.
Via Billboard