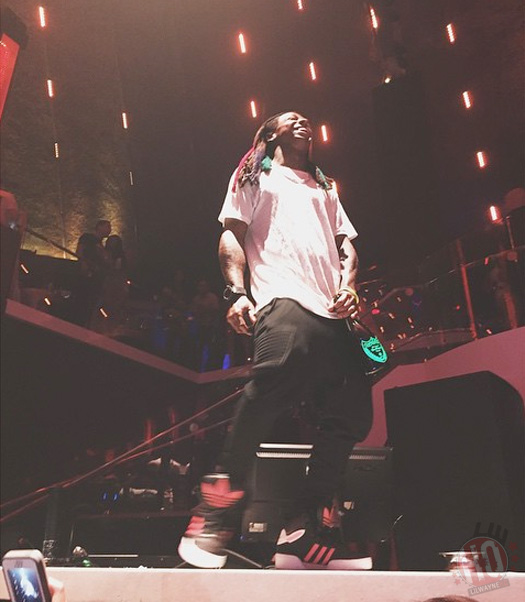 For the 2015 NSU Shark Jamz event at Nova Southeastern University in Fort Lauderdale, Florida on March 12th, Lil Wayne performed live for the students in attendance. In the 27-minute video at the 16:45 mark, which you can watch below, Wayne spoke on the hoax call at his house on Wednesday.
Weezy can also be seen performing "John", "I'm Goin' In", "A Milli", "Rich As Fuck", "Bitches Love Me", "Lollipop", "Mrs. Officer", "Blunt Blowin'", "Steady Mobbin'", "Only", "No Worries", "Pop That", "Loyal", "Fingers Hurting", "Selsun Blue", and "Truffle Butter".
This was of course all before Tunechi threw his mic at DJ FourFive and walked off stage when he played the wrong version of "Coco", but you can still see this all go down at the end of the clip, as well as Cortez Bryant and Mack Maine try and sort out the situation. Throughout the show, Tune was getting annoyed at the DJ and at the 22:50 mark, he told the crowd to shout "DJ what the fuck you doing?" and "Fire the DJ"!