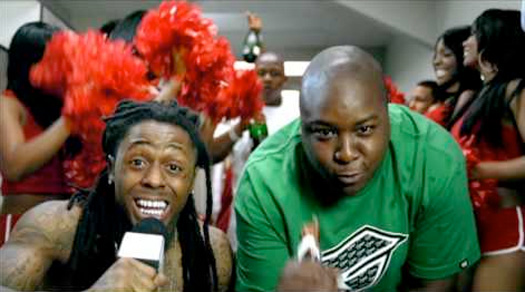 Jadakiss has announced the official tracklisting and shared a pre-order link for his forthcoming album, Top 5 Dead Or Alive (T5DOA), due to be released on November 20th.
On the project, Lil Wayne will be featured on track #6 that is titled "Kill". Back in 2013, Kiss also revealed that this Wayne feature is "vintage Weezy", as well as "mixtape killer Weezy".
In related news, you can check out the lyrics for Tunechi's "Kill" verse and read what Jadakiss had to say about working with Tune after the jump below!
"Weezy's one of the best people that you could ever call for a feature. Due to his passion to work and how fast he's gonna send it back.

You gotta respect that for a dude that put work in on that level. he could be spinning you and get back to you when he wants so when he calls me it's the same way.

I don't think nobody get their joint back quicker than him. He sends it back, he calls you and checks on you like: 'Yo, you need me to do another one? Do you like it? Is there anything you need me to say?' I respect him for extending himself in that manner."
Lyrics from Lil Wayne's "Kill" verse:
Don't start no shit, won't be no shit
She a cancer, I hit her with the chemo dick
I'm married to the MOB, my tuxedo fit
Now can you treat a blood like a mosquito bitch
I'm the exterminator, they call me Terminator
I cock this motherfucker back and Arnold Schwarzenegger
I'm still a martian nigga, approach with caution nigga
I'm 'bout to kill 'em baby, no abortion nigga
Toss a nigga in a river wearing sea men shoes
Smokin' quarters and pounds, I'm on my Ps and Qs
And my redbone taste like strawberry shortcake
I'm still trying to find a pain killer for heart break
I'm in this bitch, Kush in this swisher
I'm with my niggas, y'all witnesses
R.I.P. to them fake niggas
VIP to my scape niggas