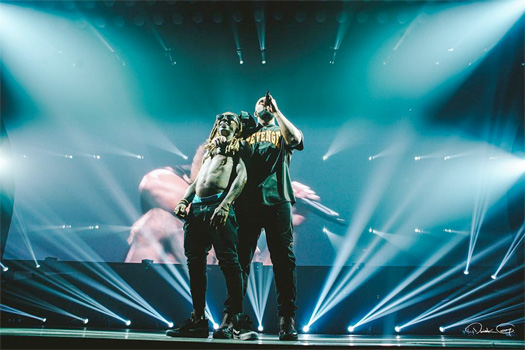 Drake brought out his Young Money boss Lil Wayne at the AmericanAirlines Arena in Miami, Florida on August 31st for the second time so far on his "Summer Sixteen" tour.
Weezy came out to perform his "Wasted" freestyle off No Ceilings live for the crowd, which you can check out in a clip after the jump below (the audio is not the best).
Before leaving the stage, Tunechi let everyone know it's still "fuck Cash Money" and Drizzy shared some nice words about Tune:
"Hold on Miami, the boss is here. You gotta make some motherfuckin' noise; I'm talking about the biggest boss, I'm talking about the reason why I'm on stage in Miami tonight. I'm talking about the legendary, I'm talking about the one and only, I'm talking about my brother… Lil motherfuckin' Wayne in here tonight!"
Photo credit: Derick G.